This article showcases our top picks for the
Best Conference Speakerphone
. We reached out to industry leaders and experts who have contributed the suggestions within this article (they have been credited for their contributions below). We are keen to hear your feedback on all of our content and our comment section is a moderated space to express your thoughts and feelings related (or not) to this article 
This list is in no particular order.
This product was recommended by Linda Shaffer from Checkr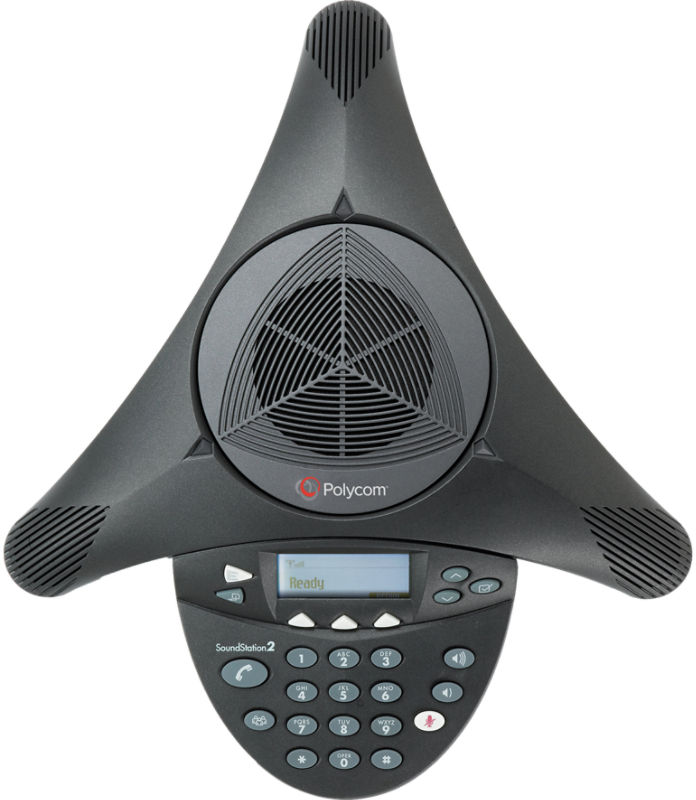 We often hold conferences at Checkr and rely on conference speakerphones to communicate with participants from a distance. A great speakerphone can make or break a successful conference call. The best conference speakerphone for us is the Polycom SoundStation2. It has all of the features you expect from a great conference speakerphone, like high-quality audio, crystal-clear sound clarity, and simple setup. Plus, it has a sleek look that blends in well with any decor. The speakerphone features two microphones, which pick up sounds from far and near. This helps eliminate background noises caused by other participants or even traffic outside your conference room. The sound quality is clear enough that you can easily hear each of the participants on the call, but you won't have any trouble understanding what they're saying. Another great feature of the Polycom SoundStation2 is that it easily connects to most conference room phones, or even your smartphone or computer. This makes setup a breeze and lets you connect to other participants from anywhere in the world.
---
This product was recommended by Gregg Cantor from Murray Lampert Design
I recommend the Anker S500 Conferencing microphone and speaker. We have a large conference room where we have client Zoom meetings with multiple staff members. Our hardware is Dell Precision Laptops that we connect to a docking station. With the Anker S500, we can have video calls on our 72- inch TV using a Logitech Webcam. The Anker mic/speaker works great connecting seamlessly all the time through USB C or Bluetooth and the price point is very reasonable.
---
This product was recommended by Susie Hayne from Cyber Acoustics
For just $29.99 this multi-purpose speaker is a great budget speakerphone and a good way to give your ears a break from headphones during meetings. It gets surprisingly loud for its small footprint and its built-in clip allows it to be attached to most monitors, for a clutter-free workspace. It can also stand alone. The CA-2890BT offers both USB (A or C via an included adapter) and Bluetooth 5.0.
---
This product was recommended by Susie Hayne from Cyber Acoustics
This portable USB and Bluetooth-enabled speakerphone ensures all your calls are crisp and clear. Multi-purpose connectivity allows for easy connection to a computer via USB or to a smartphone via Bluetooth. It features a 360-degree noise-canceling microphone and loud, crisp sound. The device is plug and play, no installation needed.
---
This product was recommended by Simon Bacher from Ling App
The EMEET Luna Conference Bluetooth Speakerphone has a special cable to accommodate up to 16 conference attendees, promoting an effective meeting space. The voices are clear, and the sound quality is good. This speakerphone can connect the mic and audio for a PC and a smartphone. I use it for live and Zoom meetings to discuss matters with my team members, mostly about our next sales and marketing plans for our gamified language learning app.
---
This product was recommended by Robin Salvador from Seekfast
We suggest the Sennheiser SP 20 ML. It's an easy-to-use, plug-and-play speakerphone that provides clear sound quality for both calls and music. It has an integrated equalizer that allows you to customize the sound to your liking, and it's compatible with both PCs and Macs. It's also very affordable, making it a great option for small businesses or individuals on a budget.
---
This product was recommended by Jeroen van Gils from LiFi
We recommend the Bose SoundLink Revolve+ Bluetooth speaker. It's available at Amazon.com for $199.95. This speakerphone has great sound quality, and it's very portable so it's easy to take with you on business trips. It also has a long battery life, so you can use it all day without having to worry about recharging it. We think it's the perfect conference speakerphone for business professionals who want to be able to take their calls anywhere.
---
This product was recommended by Abigail Richards from Tech President
The Yealink USB Bluetooth Speakerphone has eight MEMS microphone arrays, so it has a very strong ability to capture the right sounds. It also has a built-in noise-cancelling microphones so you are sure that minor noises are canceled out. The best thing about this is that it supports direct connection to apps such as Zoom, Teams, Google Meet, and such. With that, this is really a good conference speakerphone.
---
This product was recommended by Sharon Sanders from Philadelphia Weekly
This conference speakerphone is best known for its exclusive algorithm that removes unwanted noises whilst picking up only the human sounds and other major frequencies. It is also very compatible with third-party apps such as Zoom, Google Meet, and others. It even assures of a two-way audio which is very important in cases when both you and the person on the other line are speaking simultaneously.
---