This article showcases our top picks for the
Best Conference USB Microphone
. We reached out to industry leaders and experts who have contributed the suggestions within this article (they have been credited for their contributions below).We are keen to hear your feedback on all of our content and our comment section is a moderated space to express your thoughts and feelings related (or not) to this article 
This list is in no particular order.
This product was recommended by Colin Toh from Headphonesty
Jabra has a well-earned reputation for producing quality equipment, and this great little speaker can only enhance that reputation. I admit that I have the annoying habit of getting up and walking around when I am trying to make a point during conference calls. This could cause issues previously when the sound my colleagues heard would become distant and muffled. But it appears that regardless of where I am in the office, this Jabra speaker will pick up my voice and transmit it clearly to the listeners. It has Bluetooth connectivity but the best results are obtained when the cable is used. The controls on the edges of the speaker are basic but highly functional and not too sensitive that you will accidentally change functions. The sound reproduction is excellent and I have recommended that all our staff be issued with one of these great little speakers.
---
This product was recommended by Akshay Vikhe from OnlineCourseing
It can pick up individuals standing roughly 7 to 10 feet away. You can use this device as a small speaker to play music from your PC if you make it the default speaker. The USB speaker allows for simultaneous connections to up to 2 Bluetooth devices and 1 USB device. It is portable and simple to use. This microphone functions as both a USB speaker and a microphone. For one-on-one chats or group conference calls, remove your hands from your phone and headset. Using a 360-degree Omnidirectional microphone, you may hear and be heard from any angle.
---
This product was recommended by Steve Fisher from Who Makes
A compact and dynamic speakerphone that meets both worlds – your personal space and office that offers innovative microphone technology with a high-quality loudspeaker system. The battery life of up to 20 hours is compatible with a wide range of communication platforms. It connects easily to mobile, tablets, or computers via Bluetooth or USB with three distinct colors.
---
This product was recommended by Steve Fisher from Who Makes
With a stylish and compact design, you can carry and hold a meeting anywhere you want with background noise-reducing technology and speech enhancement. Flexible for Small or Medium to Large gatherings. It produces smoother communication and more clear sounds. Compatible with various platforms in WIN or MAC, it can be easily connected.
---
This product was recommended by Steve Fisher from Who Makes
Slim and portable, great for conference calls and is a high-performance music speaker and smartphone charger with up to 20 hours of battery life. Enjoy simultaneous conversations and music that you can wirelessly connect via Bluetooth or USB-A Cable for PC/Mac.
---
This product was recommended by Steve Fisher from Who Makes
A great speakerphone for home offices and conference room usage that features a 12-hour rechargeable battery and a portable case for easy travel. Easily connects with smartphones (Apple iOS and Android), Laptops, Computers, and Tablets via Bluetooth or USB-C. Compatible with widely used applications, so set aside your worries.
---
This product was recommended by Stephen Badry from Evolution AV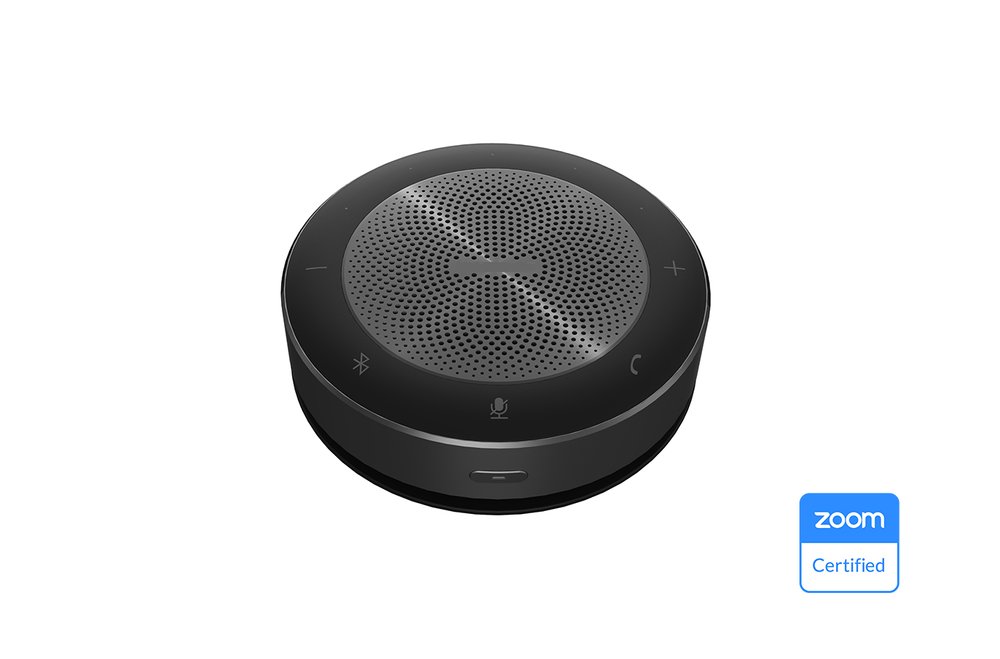 * It works over Bluetooth, USB, or using a 3.5MM audio cable * It can charge wirelessly * It has echo cancellation and noise reduction so you can use it in loud environments * If you are joining a meeting with multiple people, it has multiple 360 degree microphones so everyone can be heard.
---
This product was recommended by Brett Robinson from Wired Clip
This microphone is excellent for conferences because it has 360 degrees of sound pick-up, making it very useful when you are hosting a meeting in a large room of people. On top of this, its battery life will actually last 24 hours of call time which is more than enough energy to make it through a day of conferences. Its lightweight nature and easy charging make it easy to top up at the end of the day, enabling the 6 built-in microphones to be at peak performance for important meetings.
---
This product was recommended by Robert Johnson from Coast Appliances
This omnidirectional conference USB microphone allows me to hold conference meetings online or offline. Everyone's voice is clear on the recordings. I love its convenient touch sensor and the anti-slip and drop design, making meetings seamless. I had doubts at first, but when I tried this USB microphone at our sales meeting, I was impressed by its integration device and third-party communication app capabilities. It works on my Mac and Google Meet. You have to connect it to a speaker for live conference meetings.
---
This product was recommended by Ruben Gamez from SignWell
We didn't want to invest in a cheap microphone that would affect conference quality, so we went for this Jabra microphone that's Skype-certified – it's well worth the cost! We have clear sound quality, ample voice pickup in groups, and portable for on-the-go meetings. I'm always a little hesitant with USB options because sometimes I've struggled with incompatible or unrecognized software. With this Jabra microphone, I was able to use their 'Plug and Play' setup with no issues at all.
---
This product was recommended by Sarah Watson from BPTLAB
We have found that this microphone offers excellent sound quality for our conference calls and a precise and reliable pickup for speaking in a group setting. It also provides excellent portability for traveling to offsite events or meetings. We have been delighted with its performance and recommend it for any conference call needs.
---
This product was recommended by Sarah Watson from BPTLAB
I have used this microphone in my conference calls and found it a reliable tool with clear sound quality. It is also budget-friendly, and I'd recommend it for those looking for a USB conference microphone without breaking the bank.
---
This product was recommended by Luke Lee from PalaLeather
The sound quality is excellent, as it has multiple settings (cardioid, stereo, omnidirectional) and a mute button to control your speech during calls or recordings. It also has a headphone jack to monitor your audio in real-time without disturbing others. The design is sleek and durable, with easy access to volume controls on the front of the mic. This microphone is highly recommended for conference calls and recordings.
---
This product was recommended by Luke Lee from PalaLeather
It offers three preset modes (speech, instrument, and flat) to ensure the best sound for your specific needs. It also has a headphone jack for real-time monitoring and is compatible with Mac and PC. Plus, it is portable and comes with a carrying pouch for easy storage and transportation.
---
This product was recommended by David Zhang from Kate Backdrop
This microphone is compact and portable, making it ideal for people on the go who need to record audio in different environments. It also produces clear, crisp, and high-quality sound, perfect for conferences or presentations. The best part is that it's affordable, making it easy on your budget.
---
This product was recommended by Deepanshu Bedi from Exhalewell
This tabletop USB microphone has a cardioid feature that allows it to capture sounds in a 20′ radius with 180° coverage, making it perfect for large group meetings. Movo MC100's headphone monitoring jack will enable you to hear what's being captured live without having to play it back, so you can make adjustments as needed.
---
This product was recommended by Stacy Lewis from Eternity Modern
This cardioid-style gooseneck microphone has a noise-blocking feature and CommShield technology that prevents unwanted interference from smartphones or other devices, making it an excellent choice for boardrooms, corporate facilities, and conference rooms. The brand itself is known for its solid quality.
---
This product was recommended by Stacy Lewis from Eternity Modern
This USM microphone works with most communication platforms, such as Skype, Google Hangouts, Cisco Webex, Zoom, GoToMeeting, and Chromebox. Its high-performance chip and high-density metal cotton promise a crystal clear HD voice experience without echo and distortion.
---
This product was recommended by Michael Jan Baldicana from Dream Chasers
TONOR USB Conference Microphone is a product that offers a lot of features and benefits. It is an ideal tool for every conference, meeting, and presentation. It has a built-in noise-reduction microphone that filters out background noise to make sure the sound is clear. It has a mute button for online meetings and is perfect for online meetings, Skype chats, and conference calls. It's plug & play so you can start using it right away.
---
This product was recommended by Granger McCollough from Elite Patio Direct
Because it's the next step up in the evolution of conference mics. It can facilitate up to ten people, is a combination of speaker and microphone, and uses intelligent noise reduction to ensure that the audio quality is always sharp and clear. Welcome to Goldensky, welcome to the future…
---
This product was recommended by Richard Brandenstein from FBRLaw
It's not cheap, but for our needs it works perfectly- the product listing says it supports meetings with up to 15 attendees and at this scale it works great, with great sound quality and volume so that everyone can hear and be heard clearly. There are plenty of easy connection options, via USB dongle or a USB cable so that you can 'plug and play', too. The battery is great as well- the product listing said 8-12 hours when we bought it, but I can't say for sure- regardless, we've used it for some extremely long meetings and not had any problems, so it works well enough for us!
---
This post contains affiliate links. Affiliate disclosure: As an Amazon Associate, we may earn commissions from qualifying purchases from Amazon.com and other Amazon websites.