This article showcases our top picks for the
Best Plantronics Office Headset
. We reached out to industry leaders and experts who have contributed the suggestions within this article (they have been credited for their contributions below). We are keen to hear your feedback on all of our content and our comment section is a moderated space to express your thoughts and feelings related (or not) to this article 
This list is in no particular order.
This product was recommended by Brian Lee from Drill and Driver
This is the headset being used by our members and employees in our offices. Bluetooth technology is the most common to be used in headsets but the one thing we like with this is the remote call control feature that even if you're far from your computer and a call comes in it, you can easily answer with just a tap of the button at its side. The ultra-lightweight design makes it possible to wear the headset for long hours. This can also pair to both your mobile phone and your computer so taking calls from both your mobile and the computer will be easier and without the hassle of repairing to either device. As most meetings are still done more through video conferences, having a reliably good headset makes the meeting clearer and easier to understand.
---
This product was recommended by Tim Connon from ParamountQuote Insurance Advisors
I am suggesting this headset because I have been using one personally for over a year and I have never had an issue of sound cutting out on me or clients hearing background noise the noise cancelation is excellent and the headset is extremely lightweight. It never hurts my ears like previous headsets. I highly recommend this headset based on my experience.
---
This product was recommended by David Adler from The Travel Secret
I am a person who spends a lot of hours working in the office. Having a Plantronics headset is convenient for me to use at work when having a phone call or phone meeting. It is small and easy to wear. It helps me be hands-free and be able to move around my office if I need to. It is perfect for its audio performance. Keeps background noise out of your call and noise-canceling microphone. Additionally, you can talk for up to seven hours without having to recharge.
---
This product was recommended by Stephen Curry from CocoSign
This headset is ideal in noisy environments and is adapted to new business practices. It connects to a mobile or tablet via BlueTooth and a PC via USB, offering exceptional sound quality and active noise cancellation. Overall, it is excellent for music and calls.
---
This product was recommended by Stephen Curry from CocoSign
The Voyager 5200 is made for ultra-mobile users who desire discreet and intensive communication. Calls can be answered using voice commands or simply putting on the earpiece. Additionally, it has four noise-canceling enabled microphones.
---
This product was recommended by Stephen Curry from CocoSign
This is the ultimate headset for office workers, especially if they make calls using a landline. It has two wearing styles depending on a user's preference and is also very light. The CS540 also spots security technology that encrypts your communications making them tamper-roof.
---
This product was recommended by Ryan Yount from Luckluckgo
The premium quality Plantronics EncorePro HW710 monaural headset is exactly what people dream of. What sets it apart is its capacity to block out background noise with its telescoping microphone and provide you with an optimal voice quality for a more concentrated setting using a single earpiece. Its lightweight, slim and stylish design makes it a heartthrob for everyone. The single-ear version is the best option for those who like to keep one ear open while listening to incoming calls and conversing with coworkers. It has high-definition (HD) audio, leatherette ear cushions, and a strengthened headband to prevent breakage. Additionally, it features a retractable microphone that allows for precise positioning in front of your mouth for optimal audio. The appealing Plantronics' innovative quick-disconnect headset feature makes every H-series headset ideal for practically any application. Finding the right amplifier or direct connect cable for your device is as simple as plugging them in and communicating.
---
This product was recommended by Jonathan Tian from Mobitrix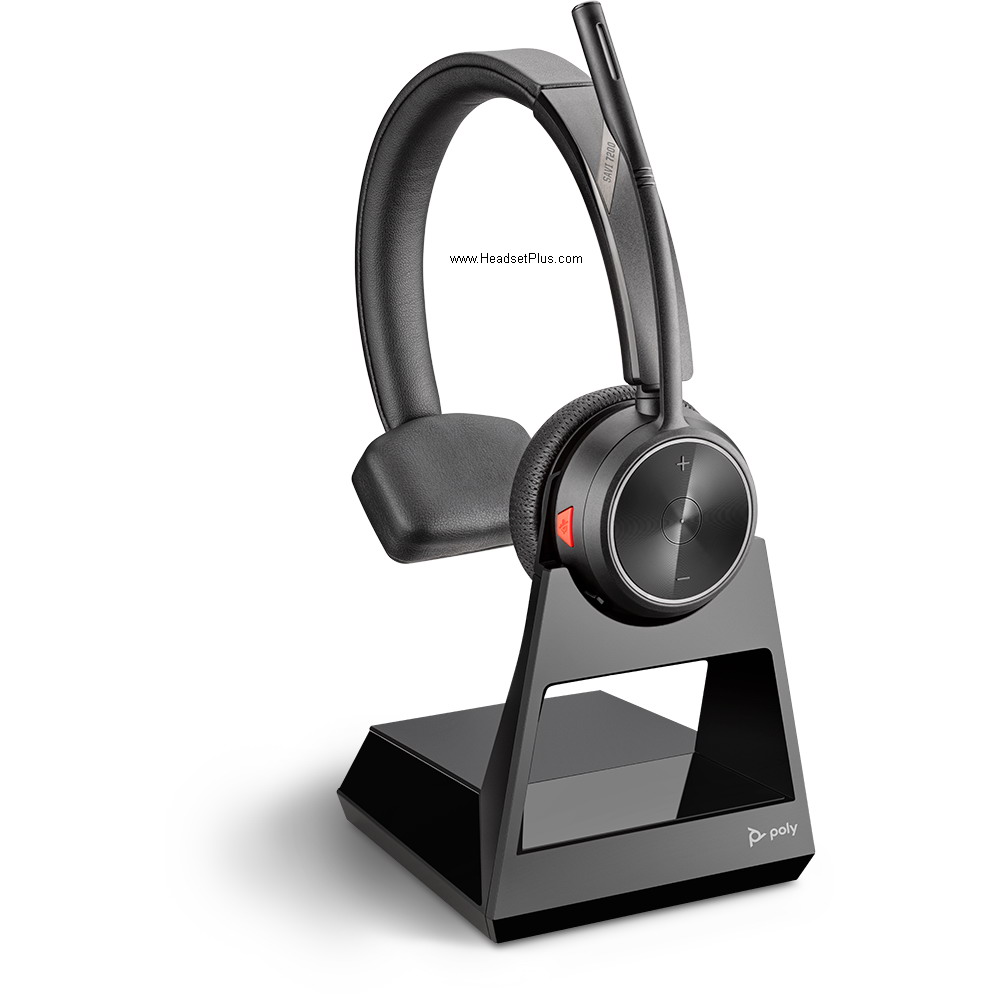 The Poly Savi 7210 Office is a beautiful addition by Poly, formerly known as Plantronics, with up to 12 hours of conversation time and up to 50 hours of particular standby instant of time charge, a noise-canceling microphone, and a medium-range of wireless DECT frequency with up to 400 feet on sightline. You may conference up to four headsets on one base, thanks to its simple conferencing settings. With a weight of only 104g, this headset is one of the most excellent solutions for contact center users searching for a wireless solution. The base has an integrated charge indicator that lets the user know whenever the headset is ultimately charged, providing the peace of mind that the headset is prepared to use. The flexible microphone may be worn either on the right or left-back of the head, and the adjustable headband lets the customer suit it in any head size.
---
This product was recommended by Shiv Gupta from Incrementors
Noise cancellation is unrivalled in the industry thanks to Dual Noise Sensor technology. Edge-AI creates next-level music in collaboration with Sony Music Studios Tokyo. With rapid charging, you can get up to 30 hours of battery life (10 min charge for 5 hours of playback). To stop play, skip tracks, manage volume, activate your voice assistant, and answer phone calls, utilise the touch sensor controls. During chats, Speak-to-Chat technology automatically decreases the volume. Call quality is excellent, with exact voice pickup.
---
This product was recommended by Shiv Gupta from Incrementors
Detachable pro-grade microphone with real-time Blue Voice technology, including noise reduction, compressor, limiter, and other features for cleaner, more professional-sounding voice communications; A USB external sound card, a Windows PC, and the Logitech G HUB software are required. The PRO X gaming headset also includes a mobile cord with an internal mic, allowing you to use the headset without the boom mic. The headset also comes with a carrying case to keep the headset and accessories safe while travelling. Limited hardware warranty of two years.
---
This product was recommended by Rousseau Vestal from Find The Aisle
The Plantronics Savi 8220 is the latest wireless headset from Plantronics. It is the Plantronics Savi 700 series' updated version. The most significant enhancements are the longer battery life and active noise cancelling earphones. The user's earphones will now block out background sounds. This is a wonderful headset if you work in a noisy workplace, which most offices are. Active noise cancellation can be turned on and off. It has a terrific noise-canceling microphone and excellent sound quality, and it can connect to three different devices (desk phone, computer, cell phone). This headset is also compatible with telecoil hearing aids.
---