This article showcases our top picks for the
Best Video Conference Headsets
. We reached out to industry leaders and experts who have contributed the suggestions within this article (they have been credited for their contributions below). We are keen to hear your feedback on all of our content and our comment section is a moderated space to express your thoughts and feelings related (or not) to this article 
This list is in no particular order.
This product was recommended by Susie Hayne from Cyber Acoustics
This professional USB headset features a unidirectional, noise-canceling microphone that ensures your calls are clear and minimizes ambient noise while speaking or recording. Comfortable and durable, the CA Essential USB Headset HS-2000 is an on-ear headset with incredibly soft earcups and a padded headband making it comfortable for all-day use.
---
This product was recommended by Kevin Huang from Ambient Home
This video conference headset is packed with high-quality audio features, including anti acoustic-shock and noise-canceling, which provide clear speaker sound during Zoom and Skype meetings. The frame is sleek, compact, and lightweight, allowing me to take calls, attend meetings, and join webinars with modern style. This headset is comfortable for the ears because of its memory foam cushion, perfect for long hours of use when speaking with investors and clients through video conference meetings.
---
This product was recommended by Allia Luzong from Sword Encyclopedia
I've been using this headset for almost a year now and it does exactly what it says on the tin without you having to do any tweaking. Granted, it's no audiophile headset, but the mic and speaker are crisp and clear for video conferencing. The headset itself is lightweight and slender so it doesn't feel like your head is cooking in its own heat even if you wear it all day.
---
This product was recommended by Simon Bacher from Ling App
The Jabra Evolve 65 UC Wireless Headset features dual connectivity for seamless connection to my Mac PC and a Bluetooth device. It eliminates high-frequency noise during video conference meetings. I can present slides and multitask away from my desk without significantly disrupting sound quality because of its 30 meters range. This wireless headset can be a great partner for on-the-go or anywhere virtual meetings. The fitting is good and comfortable, with an adjustable headband and ear cushion. I wish it included more detailed instructions in the user manual, such as how to troubleshoot a pairing problem.
---
This product was recommended by Dave Chester. from Custom controls
Due to their superb sound quality, noise cancellation, and wireless design, the Sony WH-1000XM4 are the greatest all-around work headphones, in my opinion. They manage to accomplish this all wirelessly and offer amazing sound quality and noise cancellation. The WH-1000XM4 headphones claim the title of greatest headphones despite not looking notably different from its predecessor's thanks to a variety of additional features like multipoint pairing, conversational awareness, and auto-play/pause using a built-in sensor. The Sony WH-1000XM4 is a fantastic all-around option because they provide all of this without charging a significant premium above the competition.
---
This product was recommended by Michael Baldicaña from Stayyy
The MAIRDI USB Headset with Microphone Noise Canceling is a good choice for a video conference headset. It has a noise-cancelling microphone that can be used in any environment. This is also a good choice for those who want to work from home. It has a comfortable design and provides high-quality audio and video conferencing in various environments.
---
This product was recommended by Ilam Padmanabhan from IlamPadmanabhan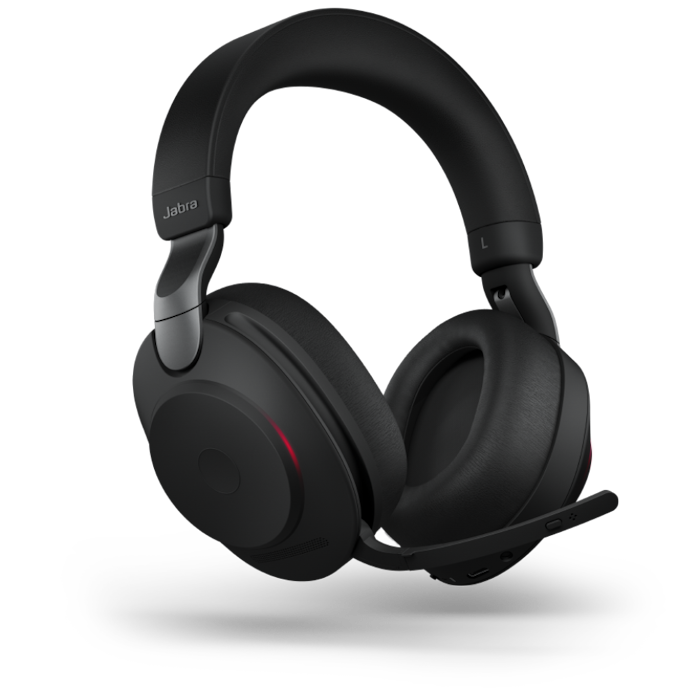 – Jabra Evolve2 85 variants that are certified to work with Zoom, Cisco and a number of other video conferencing tools. This allows one to use controls like answer call/mute/un-mute/disconnect etc., without actually touching the laptop/screen. – Long battery life – once a week charging is usually sufficient. – Extremely efficient Noise cancellation, and a powerful mic that folds into the headset. – The headset is extremely comfortable to wear, and heavy on functions. It takes a while to adjust to it though.
---
This product was recommended by Andrew Adamo from Bullion Shark
Finding a headset that provides clear incoming and outgoing vocals while reducing background noise has been essential for video conferencing. After much experimentation, I found the Bose Quiet Comfort 45 headphones to best meet my needs. These headphones have multiple microphones ensuring that my voice comes across clear. The noise canceling feature reduces any background noise on my end. They connect seamlessly via bluetooth to my computer and phone allowing me to transition easily between the two. Just as importantly, these headphones are very comfortable for the days I have long meetings or multiple back-to-back meetings scheduled.
---
This product was recommended by James Watts from Own The Grill
Because it's Bluetooth enabled, it charges quickly and efficiently and can tie into the VCS system being used wirelessly, which means whoever is using it isn't manually tied into the said system and can move around freely, and the sound it delivers and produces is crystal clear. It does what it's supposed to do and it does it well.
---
This product was recommended by Eric Jones from Couture Candy
The XM5 sounds better for music and calls. It uses four beamforming mics and AI-powered noise-reduction to get calls to sound as clear as possible. Voice comes through without distortion. It suppresses general noise and gusts of wind that can threaten to drown you out when using lesser headphones. It is a wireless headphone that connects with more than one device at a time that helps you effortlessly switch between calls and music.
---
This product was recommended by Jared Floyd from Ajax Creative
The Yealink Headset with Microphone USB Headset is a great option for anyone looking for a headset that can work with multiple devices. It is compatible with any device and has noise cancellation technology for improved sound quality. This video conference headset is affordable and has a lot of features that make them perfect for both work and personal use.
---
This product was recommended by Isaiah Henry from Seabreeze Management
The Bose Noise Canceling Headphones 700 is an excellent pick for video conference calls. While they are an investment, if you're participating in video calls on a regular basis, they're worth it. They have a built-in microphone for clear sound quality, as well as Alexa voice control. These Bose headphones come in both black and silver, and are extremely comfortable. You'll be shocked at the level of sound quality. As a bonus, it's able to adapt to windy or noisy environments, so your voice comes through crystal clear.
---
This product was recommended by Elijah Miller from RC Ride On Cars
I've recently acquired this headset and I've found the quality of my conferences has improved dramatically. It's important that as the CEO, I am fully present and have no tech issues during meetings, and this headset ensures that this is the case thanks to its excellent noise cancellation and long battery life. It can connect to Microsoft Teams and many other platforms so I know if our typical meeting platform suddenly runs into issues there are alternatives I can quickly jump on without having audio issues.
---
This product was recommended by James Costa from Jim Costa Films
The Jabra Evolv2e 65 UC is a Bluetooth 5.0 headset that weighs in at just 6 ounces and is compatible with both mobile phones and computers. The unit is completely wireless and boasts a 35 hour talk time battery. However, when using the busy light, the run time drops to 24 hours. The included 3 microphone array is noise cancelling and helps to eliminate background noise while offering superior sound clarity thanks to Active Noise Cancellation (ANC). This is an electronic aid that assists in reducing the amount of distracting room noise by dropping sound levels. The headset, although wireless, connects to your device via a USD dongle. By using USB 5.0, the headset allows for longer wireless range, meaning you can be further away from your computer and still be heard clearly. The battery recharge time is just 1 1/2 hours. The headband on the unit is adjustable and also padded making it comfortable, even after hours of use.
---
This product was recommended by James Costa from Jim Costa Films
The Poly Voyager Focus 2 is compatible with Windows, Android, macOS, or iOS computers, tablets and smartphones. The headset connects to your device via the BT700 Bluetooth dongle and allows for connection to two devices simultaneously. The unit's battery life is 20 hours of talk time when Active Noise Cancellation is enabled and up to 5 hours longer when ANC is disabled. recharging takes just 2 hours. Speaking of Active Noise Cancellation, the unit offers two different levels, one for use in an office setting (the Mid setting) and a second for very noisy situations or environments (the High setting). Built in smart sensors answer calls and pause or resume music by putting on the headset or mute by taking the headset off. The unit can be worn either way as the microphone swivels from front to back. This is a nice feature when you want to switch it around based on your desk set up or if you have hearing issues in one ear. The ear cups press against the ear. They don't cup over the ear. this makes wearing them very comfortable.
---
This product was recommended by Mimi Paul from SR22 Insurance
I bought this headset for video meetings and watching movies on weekends. I'm using this headset for few months now and regularly traveling with it and so far it has exceeded my expectations. Using this headset I no longer face any echo related issues while my meetings and my voice is very audible. So overall this is a great product for the price you pay. Highly recommended.
---
This product was recommended by Ryan Stewart from Webris
It weighs 40% lighter than competing headsets and features an unobtrusive design. These allow users to use it comfortably, especially when participating in video conferences for long hours. Likewise, the Jabra BIZ2400 DUO possesses PeakStop technology that actively protects by filtering sudden loud noises above 118 decibels. Standard to any Jabra headset is its noise-canceling microphone with a high-definition voice feature. It eliminates background noise from a busy environment and keeps your voice clear.
---