This article showcases our top picks for the
Best Office Desk Lamp For Eyes
. We reached out to industry leaders and experts who have contributed the suggestions within this article (they have been credited for their contributions below). We are keen to hear your feedback on all of our content and our comment section is a moderated space to express your thoughts and feelings related (or not) to this article 
This list is in no particular order.
This product was recommended by Patrick Sinclair from All Home Robotics
It's a wireless charging desk lamp, by AFROG. It's the perfect addition to the home office of someone working from home, as it combines two very crucial home office appliances in one convenient package. The lamp itself features 5 lighting modes at 7 different brightness levels. I'll do the math for you – that means there's 35 different lighting combinations, ensuring that there will be the right setting for your eyes at any given time. There's also an auto-off feature so you don't need to worry about leaving it on overnight. Then there's the charger. It allows for 10W fast charging, both wired through a USB port, as well as wireless through the charging pad at the base of the lamp. The base also features a touch control interface to adjust the lamp's various lighting modes and brightness levels. It's a stylish and very techie addition to one's home office, and I recommend it greatly.
---
This product was recommended by Matt Perry from BuyMoldavite
Lumiy! Functional, modern sleek design, offers angle-adjustability, and has efficient light output – it has everything you'll look for in a desk light. The 4 light temperature settings are incredibly helpful for different types of work. I also love the easy-to-use integrated touchpad on the base. At $70 on Amazon, it's an upgrade that will not only improve the look of your workspace but it will definitely protect your eyes too!
---
This product was recommended by Robert Johnson from Sawinery
This Basics Lamp contains 48 energy-saving LED bulbs. The base has a button that allows you to switch between three color modes: natural, white, and yellow light. You may also change the brightness by holding your finger down on the power button. Also, It is ready to use right out of the box and stands between 13 and 15 inches tall, depending on how you angle the adjustable gooseneck. It's a simple lamp with a simplistic design that works well and would be an excellent addition to a modest workspace.
---
This product was recommended by Olivia Tan from CocoFax
If you are looking for a lamp that can suit your busy workspace, this one's for you. With your monitors, tablets, papers, and notebooks around, this lamp can give you the light that can make you comfortable while working. The BenQ Silver Genie E-Reading LED Desk Lamp gives off the view that you need without monitor glare and flickering that might distract you from your work. It has a curved head that can light your wide desk space. With its excellent structure, you can also adjust its angle and height depending on the position that you need. You can easily switch the lamp from a relaxing mode to a suitable way for your work.
---
This product was recommended by Stephen Light from Nolah Mattress
For those on a budget, this desk lamp is an excellent option that still protects your eyes very well. With 10 brightness levels, 3 color modes, and the option to dim the light, you'd never be able to tell this one was a money saver. It's also perfect for those looking to save desk space – the clamp ensures a clear workspace. It can be moved to different angles depending on whether you want direct light or a softer dispersion. Perfect for day or night, this lamp will put out a uniform light that helps put an end to eye strain.
---
This product was recommended by Amit Raj from The Links Guy
I have been trying to find a light that doesn't have that irritating quiet buzzing, and I finally got it! There are 5 different lighting modes which are great if sometimes you need a soft light. You also get a wide range of dimming functions with easy touch controls. The wireless charging base works brilliantly, and with a USB port as well this perfect desk lamp with all the bells and whistles does it all!
---
This product was recommended by Bartek Boniecki from Passport Photo Online
First of all, I have chosen this lamp for its eye-caring led. Working all day in front of a screen can make your eyes fatigued. That's why having adequate light is essential. Moreover, there are the possibility to choose 6 brightness levels and 5 color temperatures modes. The other feature that I like is that it takes up minimal space on my desk, and it has a flexible arm, so I can light wherever I want, directly on my pc or not. Finally, the USB charging! Charging my phone directly from the lamp allows me to have it close to me and leave a free socket for my pc or other technological devices.
---
This product was recommended by Harriet Chan from CocoFinder
This best office desk lamp light that helped me during the remote working period. I am impressed by its 4 lighting modes and 7 brightness levels. Best suits for reading, sleeping, studying and relaxing. The LED light is adjustable and equipped with charging ports, and phone mount space. It has an automatic turn off settings to save your electricity bills. The light is flicker-free and uniform that protecting your eyes from unnecessary strains.
---
This product was recommended by Robert Banks from MrStocks
I've been using this desk lamp for a while now and I've been satisfied with it. As being a clip on light, I can easily transfer it to every side of the table or even when transferring to a different table at all. It also has adjustable arms allowing the lamp to be moved and faced to where you want the light to be focused. You'll quickly notice that the light has no flickers or dark areas as those help to prevent the eye from being strained too much. As working takes long hours, having a good source of light makes you worry less because you know that your eyes are being protected.
---
This product was recommended by Sebastian Arciszewski from Worn Simple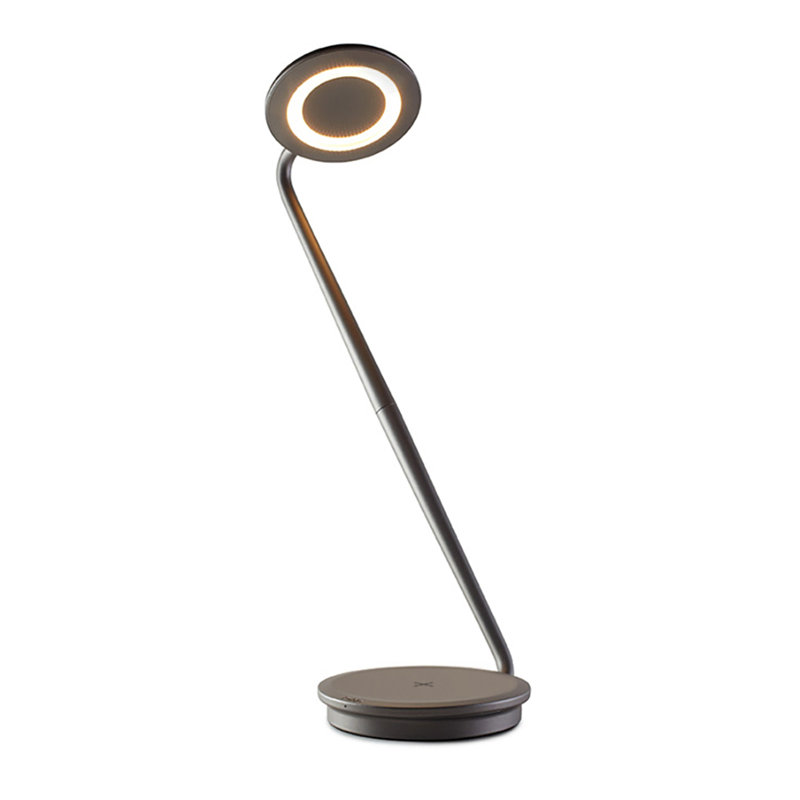 I'm suggesting it because it's a great lamp with a very warm LED temperature of 3000k which tends to be much easier on the eyes than harsher colder / whiter LED light temperatures. It's an overall great lamp as well with a built-in USB port.
---
This product was recommended by April Maccario from Ask April
If you are looking for the greatest lamp for your eyes, this is the best thing I can recommend. I adore it; it has a modern style and a black color scheme that is ideal for a simple and minimalist workplace. It has three color modes, which made me fall in love with it even more. It is adjustable, allowing you to find the ideal angle.
---
This product was recommended by April Maccario from Ask April
It's an all-in-one desk lamp with a wireless charger that you can use to charge your phone. It's even more incredible to have five color modes and ten brightness settings.
---
This product was recommended by Michal Jonca from PhotoAiD
Mi Smart LED Desk Lamp Pro has everything that a good desk lamp should have. The white-colored aluminum alloy construction makes it solid and looks great in every space. Color temperature ranges from 2500 – 4800 k. You can adjust the intensity of brightness and color temperature of up to 700 lumens. You can control the lamp by voice via Alexa, Google Assistant, and Apple Home Kit. By app, you can customize Focus mode and set after what time lamp should remind you to take a break to enhance work efficiency and reduce eye strain—all of this for a reasonable price.
---
This product was recommended by David Scott from Top Reviews
A modern table lamp that uses 48 energy-efficient LED lights to provide non-glaring illumination for various tasks. Its innovative design makes it a perfect choice for home or office use. Lightweight and portable, it can be moved around easily from one area to another and toggle between 3 colour modes: Natural light, white light, and yellow light.
---
This product was recommended by Shiv Gupta from Incrementors
Lampat LED Desk Light is a lamp with a glare-reducing construction that might be soothing to your eyes. It provides natural light that is gentle on your eyes and keeps them from straining. It features four different illumination modes for reading, studying, resting, and sleeping. It also offers five brightness settings to help you get the ideal amount of light for your needs. Its low power usage is one of its key features. The control panel is also touch-sensitive and easily customizable.
---
This product was recommended by Cindy Corpis from SearchPeopleFree
The lamp emits a significant amount of clear, comfortable light without causing harshness or flashing in your eyes. It is very pleasing to the eye and ideal for lighting up your workplace. It includes brightness and color memory, so it will switch on with the same settings as the previous time you used it. Color and brightness are both well-balanced. Unlike some other similar lamps, there are no LED lights that stay on after the lamp is turned off. It has a sturdy, high-quality feel about it, and the movements are smooth.
---
This product was recommended by Cindy Corpis from SearchPeopleFree
The light is powered by a micro USB/USB connection, allowing it to be plugged into any USB outlet. It also includes an adaptor, allowing you to simply connect it to the wall. If these features weren't enough to pique your interest, you can simply unplug the device and become cordless because it has a battery within. You may take this small lamp with you everywhere you go. This light may also be bent, twisted, and angled to your liking. It's especially useful when you need to focus the light on a certain area, such as in a workplace.
---
This product was recommended by Jerry Ford from 4WD Life
A lamp that's as perfect for home as it is for the office, the Baseus LED Desk Lamp is your ideal reading and work partner. With a smart bulb running the show, your eyes get the much-needed rest they need without having to settle for less either. A 47-inch wide illumination area and 3 different color modes to choose from make this lamp an easy buy. The built-in battery can light up your desk or workspace for a solid 13 hours, and a full charge only takes 3 hours. Its touch control and 180-degree angle adjustment make this lamp a difficult option to pass on.
---
This product was recommended by Krista Haws from Dripped Coffee
Looking for the perfect desk lamp to fuel your productivity? How about throwing in a Bluetooth speaker too? The OttLite LED Dual Head Desk Lamp is a natural daylight lamp with a built-in Bluetooth speaker and makes for a cool workstation companion. With 3 different color settings that give your space daylight-like illumination, the reduced glare of the lamp considerably reduces eye strain. The lamp allows you to adjust brightness levels, and the auto shut-off timer is another energy saver that comes in handy should you doze off with the lamp on. Its convenient USB charging port offers additional ease of use.
---