This article showcases our top picks for the Best Desk Lamp For Home Office. We reached out to industry leaders and experts who have contributed the suggestions within this article (they have been credited for their contributions below).
We are keen to hear your feedback on all of our content and our comment section is a moderated space to express your thoughts and feelings related (or not) to this article This list is in no particular order.
This product was recommended by Robert Banks from MrStocks
This is what I've been using when I'm working at home late at night or even when I'm just reading a book. It can brighten up my work area really well and is very easy to turn on with just a click of a switch on the cord. Using its metal clip, I can put it on any table or desk, even in bed headboard and I can already have a good lighting for what I will be doing. I also don't need to worry about the space or how to adjust the lamp as it has a free angle adjustable arm that allows me to move the lamp to where I need the light to focus on. The switch has options from off, warm light and white light and even has brightness adjustment making it easier for you to have the light you want depending on what you need.
---
This product was recommended by Nicolas Holand from GooseSmurfs
Ikea has plenty affordable yet quality items, don't forget the great designs too. Truly, it is a haven for most people that finds perfect items for an additional touch to every space at home. Thus, for a desk lamp, Ikea Forsa is at the top of my list. It's very minimalistic but classy and most of all it perfectly serves its purpose.
---
This product was recommended by Patrick Sinclair from All Home Robotics
The idea is simple but genius: a stylish looking desk lamp with a wireless charger in its base for quick and convenient phone juicing. It's the perfect lamp to have in your home office, so you can keep your phone right nearby and also have it charging. There are a bunch of other useful features in the lamp itself too, like multiple brightness modes and auto-off timers. Best of all, the charger can even be used with a wired USB charging cable, should you find the need. It's a great product that I highly recommend.
---
This product was recommended by Amit Raj from The Links Guy
This folding, rotating desk lamp is a work of art and has all the bells and whistles you could imagine. Beautifully crafted with adjustable light intensity, it will look after your eyes as well as a USB charging port to keep you plugged in and topped up!
---
This product was recommended by Philipp Zeiske from Zeitholz
Sturdy yet flexible, the Trond desk lamp has been an invaluable addition to my home office. Not only is it exceptionally bright for when you really need it, but it can be easily dimmed and has three lighting adjustments. The high-quality clamps make setting up this lamp really easy, ensuring that it's well-supported at all times.
---
This product was recommended by Harry Morton from Lower Street
With three color modes and 4 levels of brightness, this is a pretty impressive desk lamp given its price. The build quality is sturdy and reliable and it doesn't hurt that the lamp is sleek and stylish — effortlessly elevating how great your workplace looks. The touch sensitive controls are definitely an added bonus.
---
This product was recommended by Scott Hasting from Betworthy LLC
This desk lamp has three color light modes namely: warm light, day light, and natural light. For each mode, the level of brightness can be adjusted for three levels. This is all controlled by a touch sensor that is sensitive to our timed press to identify the mode and brightness that you want. It is a flexible table lamp so you can adjust the height and the reach of the headlight even for 360degrees. It can also be charged using a USB connector so it is very convenient to use. Lastly, the company offers a 30-day money-back guarantee and a 12-month warrantee with a ver responsive customer care center. Hence, one of the best products out there.
---
This product was recommended by Susan Meloney from Product Diggers
This lamp stands out because it has the best wireless charging feature that will charge your Qi-compatible smartphone while you work. It has a sleek and timeless design that not only looks modern but also saves space on your desk.
---
This product was recommended by Susan Meloney from Product Diggers
This lamp is ideal for students not only because it is cheap but also because of its compact form and functionality. It is small in size so can be moved around easily, and adjusted in small dorm rooms. Moreover, it has a night-light feature with a 60-minute automatic shut-off timer which is perfect for students.
---
This product was recommended by Susan Meloney from Product Diggers
The BenQ lamp allows you to adjust its brightness and temperature making it highly customizable. Moreover the technology is built to provide constant flicker-free illumination to reduce eye strain. Having a wide light coverage and large range of motion, this lamp is tailored for home offices.
---
This product was recommended by Lucas Travis from Inboard Skate
What's good about this desk lamp is its sleek and unique design. Aside from that, you can really see and feel that it is made with high-quality materials. It has three brightness levels that's adjustable based on your preference. It also looks very appealing and is very sturdy that perfectly fits in any desks.
---
This product was recommended by Olivia Tan from CocoFax
I suggest this product because its matte appearance strikes a tone between traditional and modern, meaning it will suit a variety of settings. Plus, its flexible neck covers nearly every lighting angle you could need. This lamp doesn't come with a built-in LED, so you'll need to supply your own bulb. This gives you the flexibility to get a bulb with a temperature to your liking, or even a smart light bulb with color and scheduling options. You can also use any spare lightbulb you have around your house, so long as it's an LED bulb rated between 4W and 6W, an energy saving bulb between 8W and 16W, or an incandescent bulb between 20W and 40W
---
This product was recommended by Cara Palmer from Lights
The Castell 2 Globe Table Lamp was designed by the lighting experts at Lights.com with mid-century style in mind, as well as modern features. The dimmable globes provide customizable lighting for your needs, and each lamp is fashioned with a unique, real piece of marble as a base. Perfect for a fashionable, updated home office.
---
This product was recommended by Craig Miller from Academia Labs LLC
This desktop lamp offers three brightness modes. It also has two fast-charging ports and a free LED bulb. The lamp head is highly flexible so you can direct it anywhere you want. it is made of rust-proof metal in a black finish with gold accents so it suits very well in the aesthetics of your room.
---
This product was recommended by Eden Cheng from PeopleFinderFree
For those looking for a home desk lamp that offers them an excellent combination of style and function, then you will undoubtedly be happy with the Himigo LED Desk Lamp. The lamp comes designed in a modern style and features an LED panel that is bound to pair well with any existing furniture and decor. It also has a rotating arm which makes it very easy to pivot the lamp to your preference. Furthermore, the lamp also offers both USB and wireless charging capabilities, as well as five different color modes and five different brightness levels for that perfect lighting that you may need, be it both day or night.
---
This product was recommended by Nataliya Novitskaya from Lasting Trend
A desk lamp should be functional, comfortable and stylish. This SUNNEST LED desk lamp with multifunctional LCD screen is environmentally friendly and does not flicker or make noise during operation. It offers 3 lighting modes (warm white/natural white/cool white), plus 5 levels of brightness, 15 combination options in total.
---
This product was recommended by Zach Reece from Colony Roofers
The JUKSTG lamp is a foldable LED desk lamp that is built for ease-of-use and user-friendliness. The lamp turns off automatically after an hour in case you forgot to turn it off, dozed off while studying, or simply need an enforced break to get up and stretch your legs. It has a multi-angle adjustment that helps optimize lighting and a touch-sensitive control panel to make it easy to control the lighting. It's also highly energy-efficient and has a USB charging port so that you can charge your electronic devices in the meantime. Given its affordable price of $28.99 (at the time of writing), you won't have to break the bank to get this desk lamp.
---
This product was recommended by Demi Yilmaz from Colonist
With a slim and minimal profile that doesn't block your view, this is possibly the best desk light you can get for your work-from-home setup. The brightness is quite impressive and it covers a wide surface area, illuminating even the darkest corners quite easily. It's packed with features that let you adjust both the brightness and the color temperature along with an auto-dimming mode.
---
This product was recommended by Harriet Chan from CocoFinder
The pandemic had struck the business environment with a remote working strategy forcing the employees to set up a home office with the desk lamp to increase productivity amidst the challenges. This LED desk lamp has a flexible design structure that sticks to the table using the clamp end. It works on three different modes and ten brightness levels. The lamp arm is flexible and adjustable in all directions based on your needs. The presence of the memory function enables it to save the last activated mode and proceed with the same settings when you turn it on even after hours. This LED desk lamp saves energy and has an eco-friendly feature.
---
This product was recommended by Jeanine Duval from Edelwyn
Having a light therapy lamp on your desk is a perfect tool to counteract feelings of stress, depression or anxiety. Light therapy helps restore your regular circadian rhythms, making you less sleepy and more alert. All you have to do is sit in front of this lamp for 20-30 minutes a day and I guarantee you will start to feel the benefits. Remote work can be very isolating, so having this tool accessible to you during long days in your home office is a great way to practice self-care, and keep that isolation at bay. This lamp specifically offers multiple colour options, and is also the perfect size for a desk.
---
This product was recommended by Karen Condor from MobileHomeInsuranceQuotes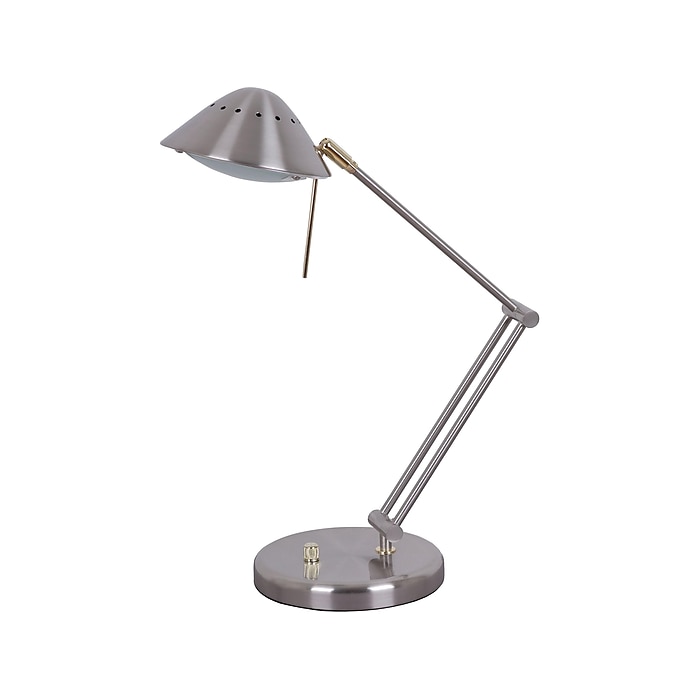 This product is being recommended for a large number of reasons besides it being good-quality and long-lasting. Its customization is a big plus, as you can adjust the amount of light with the dimmer and, even better, you can adjust the arm to point exactly where you need the light — and it stays. The base is also heavily weighted, so it's a solid lighting fixture.The lamp provides a large amount of warm, glare-free light without taking up a large amount of space on your desk.
---
This product was recommended by Jennifer Barton-Beale from AtoZofSublimation
This Ottlite desk lamp gives a true to color lighting to our work area because of its natural daylight illumination. It's also versatile because its adjustable, rotating shade lets us position it to where we need the most light. It's bright, has a sleek design, energy saver, and doesn't take up too much room either.
---
This product was recommended by Cathy Mills from Net Influencer
This lamp is a great product because its LED light is specially made to protect your eyes. Additionally, this lamp can be easily adjusted according to the place where you want more light. Plus, the fact that it is rechargeable allows you to take it anywhere you need to work, write, or read.
---
This product was recommended by Elena Ciaccio from eAccountable
This lamp features a rich, vibrant green metal shade mixed with a clean, modern base. With a stand-out design, this handsome, bold pop of color is perfect for adding some character to your office.
---
This product was recommended by Elena Ciaccio from eAccountable
With a dually adjustable design, the Graydon Desk Lamp is modern architecture for the room. The brass finish and marble base give it a touch of classic elegance. It's perfect for those looking for functionality and aesthetic.
---
This product was recommended by Elena Ciaccio from eAccountable
The Layla lamp mixes classic with contemporary, sacrificing no quality along the way. Each fixture embodies form and function in perfect harmony, resulting in less clutter and more creativity.
---
This product was recommended by Riley Beam from Douglas R. Beam, P.A.
The Otus Architect is a straightforward desk lamp with a design that tastefully balances contemporary and old-fashioned. The most impressive part is that the lamp is gesture-controlled and can be operated with a simple wave of the hand. Both the brightness and the color temperature can be adjusted and the lamp itself can swivel around easily for better illumination and viewing angles.
---