This article showcases our top picks for the Best Home Office Monitor Under 200. We reached out to industry leaders and experts who have contributed the suggestions within this article (they have been credited for their contributions below).
We are keen to hear your feedback on all of our content and our comment section is a moderated space to express your thoughts and feelings related (or not) to this article This list is in no particular order.
This product was recommended by Charles McMillan from Stand With Main Street
I personally recommend Samsung C24F390 that I have bought on Amazon. *I am using this since 2019 and it truly helped me to get my tasks done especially when the global lockdown has occurred. I consider this to be one of the best functioning monitors for its price; from its image quality to its ergonomic stand. It may not have a standard VESA mount, it doesn't decrease its value. So, if you are looking for passable color accuracy, a good color gamut, and decent image uniformity, then this one is perfect for you.
---
This product was recommended by Sherry Morgan from Petsolino
Aside from being the most flexible monitor of all the options I've tested, it stands true to its claim of being a highly adjustable monitor that can be tilted, without the fear of damaging it. It's not likely that you can land up a panel tilting monitor that's adjustable in height and in portrait rotation for a very cheap price. With this, it's a lot easier to find a comfortable viewing which is highly pivotal if you are working from home.
---
This product was recommended by John Stevenson from My Gre Exam Preparation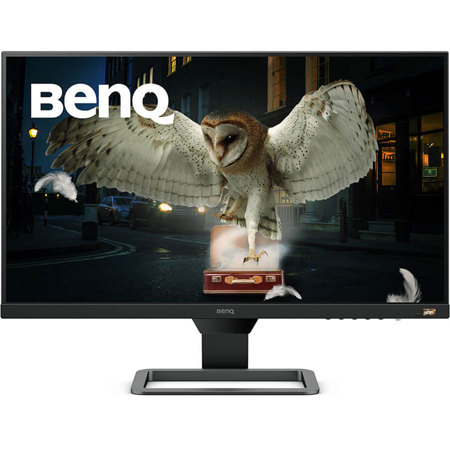 I especially like this monitor as it delivers an unmatched visual experience for under $200. Also, as someone who spends a lot of time staring at the screen while I work, I like knowing that it cares for my eyes as it filters blue light, and automatically adjusts brightness.
---
This product was recommended by Mark Hayes from Kintell
This is a great option for those looking for a cheap, large, monitor whilst working from home. It's currently available for under $180. If you're looking for perfectly vivid colors, a crystal clear picture and loud, robust audio all in one product, this is the monitor for you. This has served me well during the pandemic, and I plan to use it for years to come.
---
This product was recommended by Jason Brown from Approved Costs
If you want to enjoy a 1080p resolution at an affordable price, the Acer Nitro XF243Y Pbmiiprx is for you. The IPS model is great for almost any type of home office use. With its 360-degree swivel, you can enjoy great ergonomics. The visibility is compatible with almost any room brightness. However, with its low contrast ratio, it's not ideal for dark areas.. With its price range, it's unbelievable how superb is its motion handling. The exceptional response time combined with the 165Hz refresh rate allows the monitor to produce clear images. If you are on a budget and want a great monitor, get yourself an Acer Nitro XF243Y Pbmiiprx today.
---
This product was recommended by Alek Asaduryan from YesCycling
It's a beautiful full HD frameless monitor with some very realistic colors and decent viewing angles. But what's most impressive is the affordable price – it's an amazing value for your money. The monitor is available in 22-inch, 24-inch, and 27-inch versions. I purchased the 24-inch option because I have a tiny IKEA desk for my home office, and the 27-inch model wouldn't fit.
---
This product was recommended by Roy Thompson from Advanced Commerical Interiors
I love this monitor because it offers a nice range of high-end features without the high-end price. the fact that it offers a 5ms input delay means that there's an unnoticeable lag between you moving your mouse and the curser moving too. This is perfect for when you need to edit a video or image because you won't be waiting around for your cursor to move while you air bush something or crop a tiny detail out of an image. what's more the lower the input delay the after you're able to work which helps to improve your productivity. the wide screen style makes it much easier for you to work on several things at once, being able to have more than one window open on one screen will help you to multitask effectively. With its full HD picture quality, the monitor itself matches the high spec' features with its design. An elegant, lightweight design with a nonintrusive stand means that it'll fit almost anywhere and won't look out of place. A VASA mount of the back makes it easy to mount to the wall or a monitor arm too. One of the best features is the eye saver mode, which helps to protect your eyes from the strain of staring at a screen for hours on end.
---
This product was recommended by Steve Morrow from Paddle About
I own two of these monitors and I love them. The monitors are height adjustable, lightweight, 1080P. The brightness and blue light filters are easy to adjust and I have not had issues with these monitors at all. My teenage son owns one as well and uses it for gaming…and he games a lot!
---
This product was recommended by Lucas Travis from Inboard Skate
Samsung Business T65F 24 inch 1080p 75Hz IPS Computer Monitor for Business with HDMI, DVI, DisplayPort, USB, HAS Stand, Service: (F24T650FYN)3-Year Business warranty with extended warranties available for purchase Software: Samsung Business T65F – Fully adjustable stand with tilt, swivel, height, and pivot adjustment provides the best in ergonomic comfort, while 100×100 VESA support allows you to mount the monitor on a wall or in a multi-monitor setup – Flexible connectivity options including HDMI and DisplayPort, along with a built-in USB hub featuring 2 USB 3.0 ports and 2 USB 2.0 ports making it easy to connect all your peripherals without having to reach under your desk or behind your computer – Eye Saver Mode and Flicker Free technology help to reduce eye strain for a more comfortable work experience, even during long work hours.
---
This product was recommended by Alex Perkins from All the Stuff
The ASUS ProArt PA248QV is a great entry-level color-calibrated monitor for just under $200. When I say entry-level, by no means is it a low-quality monitor. It is simply an amazing cost-effective choice at this price point! You get a 1920×1200 display, a 75hz refresh rate, and excellent sRGB accuracy. Another great feature of this monitor is the stand. You can lower, raise, swivel, and tilt the monitor to your liking. It even supports 90-degree rotation for portrait mode which is pretty rare at this price range. You'll definitely enjoy the visual benefits this monitor can provide, especially those who do a lot of photo and video editing. Perfect for a home office setup!
---
This product was recommended by Nicole McPherson from Ergotron
This monitor arm is great for when you want to clear up space in your workstation, just move it out of the way. Offers adjustable positioning with your comfort in mind to help increase your productivity.
---
This product was recommended by Nicole McPherson from Ergotron
Great option for cost-conscious, first-time monitor mount buyers. Includes flexible stand positions to adjust for your ideal height and the screen rotation lets you personalize your set-up for maximum comfort.
---
This product was recommended by Neil John from One Computer Guy
When buying a budget monitor, you should check out the listing of what's in the box. The Dell S2721D is the best monitor under $200 with a 1440p resolution. It has a 27-inch large screen which provides several screen spaces for multitasking. It has a 75Hz refresh rate, producing clear images as well as providing fast response time. Whether you're doing your content creation at home or in the office, it is very suitable for both cases. When you have Dell S2721D you don't need to handle the visibility issues; it handles reflection well. Overall, it's a simple but good office monitor that should satisfy most people. So don't wait for any other monitor. Just get the Dell S2721D, and it's worth picking.
---
This product was recommended by Harriet Chan from CocoFinder
Some of the services the monitor provides to the users include; the first is that the monitor has good contrast and good color, which is good for visibility, thus making the monitor applicable for many practices in the office. The monitor is recommended due to its good quality, the viewing experience, and the price. For all the features mentioned, the monitor is available at Amazon for about $170. Samsung is a huge company that produces different display modules for tv's, phones and monitors. Buying the Samsung monitors assures you of having a good quality monitor that will serve different purposes.
---
This product was recommended by Edward Eugen from 10Beasts
This monitor is an excellent choice for most home office users. It has an affordable price, a well-known brand, and it comes with features that make it a great deal: – Good screen size for the average user (23.8 inches). – Full HD resolution with 75Hz refresh rate. – IPS, which provides higher quality images, wider viewing angles, better contrast and color accuracy. – Low blue light mode. It reduces the blue light, which is excellent if you're spending a lot of time looking at the screen. – Built-in speakers. – Good variety of ports: DisplayPort, HDMI, VGA, and a 3.5mm audio jack. – Thin edge display. You can put two monitors side-by-side and create an ultra-wide display. – Good ergonomic options: you can tilt the screen, adjust the height, and pivot to portrait mode. If you compare these specifications with other models at the same price range or even more expensive ones, you will see that this is a great cost-benefit option. Unless the user's work requires more advanced features, this monitor is an excellent choice for any home office.
---
This product was recommended by Patrick Wu from Ioforth
LG is one of the leading brands when it comes to electronics, and for its price, it's a steal. In addition to 2 HDMIs, it also has a VGA connector, and while it is a great monitor to use while doing your tasks, it's also great for gaming in your downtime.
---
This product was recommended by Shabbir Noor from MakerShop
This is a great inexpensive monitor that has good color accuracy and a 75htz refresh rate, It has a full set of inputs, fairly good speakers, and a USB hub.
---
This product was recommended by Melanie Musson from InsuranceProviders
This monitor is ideal for the home office because, thanks to its Eye Saver Mode, your eyes will be less likely to get tired even after a full day logged into work. The included monitor stand not only allows you to tilt it for optimal comfort viewing sitting or standing, but it also offers a full swivel. You can turn the screen from landscape view to portrait mode to suit specific needs. It also includes several ports to connect the other devices you need to work most efficiently and comfortably. The setup is intuitive and simple.
---
This product was recommended by Brandon Wachs from Shark Eyes
The Global Pandemic changed our lives in many ways. Working from home and having less cash to spend are two things that spring to mind. I had to purchase home office equipment on a budget but didn't want to compromise on quality. Having personally used this monitor, I am more than happy to recommend it. The Samsung Curved Monitor comes with a range of features and the quality you expect from the brand. Having opted for Samsung mobile phones for years, it's my go-to brand for tech equipment. I particularly like the eye saver technology which allows me to work comfortably for long periods. The curved screen provides an awesome viewing experience and the design looks like a work of art in my office. Not to mention with a price tag of under $200 it's a real bargain!
---