This article showcases our top picks for the
Best Small Office Desk
. We reached out to industry leaders and experts who have contributed the suggestions within this article (they have been credited for their contributions below). We are keen to hear your feedback on all of our content and our comment section is a moderated space to express your thoughts and feelings related (or not) to this article 
This list is in no particular order.
This product was recommended by Stephen Light from Nolah Mattress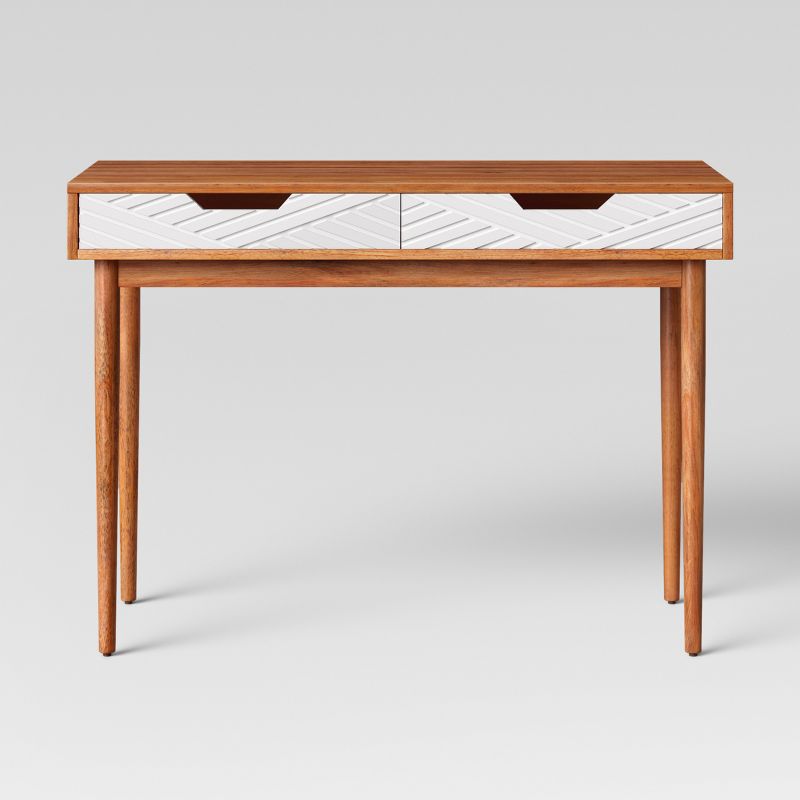 For anyone who has limited office space but still wants a beautiful desk, this Touraco Writing Desk from Opalhouse is an excellent option that's also very budget-friendly. It's simple, elegant, and at 42 inches wide is easy to accommodate in virtually any smaller office space. Even though it's compact, it still has two roomy drawers for the storage of any necessary supplies.
---
This product was recommended by Zac Houghton from Loftera Limited
The Furinno Econ Multipurpose Home Office Computer Writing Desk will provide the perfect balance between function and cost for your small office. The stylish design is attained through high-quality materials with simple assembly instructions, making it both affordable and convenient for any business looking for a functional and trendy office desk.
---
This product was recommended by Ouriel Lemmel from WinIt
I recommend the Cubiker Small Computer Desk. Working from home just became a lot easier. This stylish and functional desk combines modern and rustic, and will fit into any small office space. It uses triangle iron and diagonal scaffold braces to connect the frame, so it's sturdy and durable. It's much less expensive and at only 32.5 inches wide, it's compact enough to fit in any small office space.
---
This product was recommended by David Scott from Top Reviews
Ideal for a small office, This 2-shelf desk features two open-sided wood storage shelves and a wide desktop; customizable shelves can be assembled on the left or right side, which is a great feature if you have limited space.
---
This product was recommended by David Scott from Top Reviews
An easy-to-use desk organizer, the Desk includes a set of two smooth sliding drawers that keep your desktop clutter-free. This is my wife's favorite Desk as it looks charming and elegant.
---
This product was recommended by David Scott from Top Reviews
Office Desk with 2-tier open storage drawers and a rigid metal frame with double iron strut design and adjustable leg pads provide greater stability.
---
This product was recommended by Gelen Revilla from Good Noise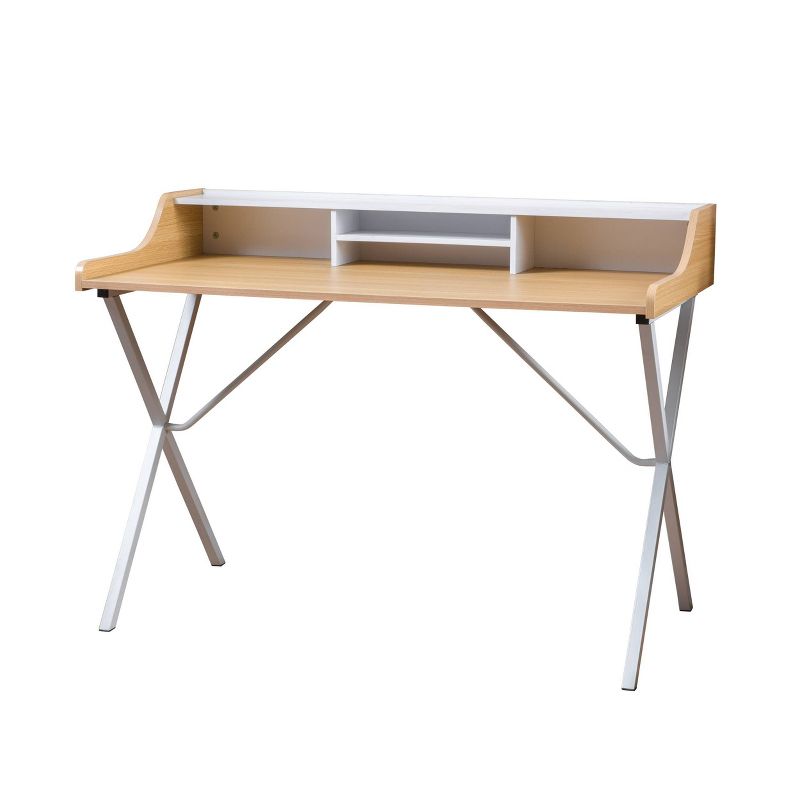 This Christopher Knight Home Aalto Computer Desk is the perfect desk for that small office that you have been looking to start in that extra bedroom. Complete with shelf space to easily store and access your documents and papers while still providing you with enough workspace. Add this Christopher Knight Home Aalto Computer Desk to your office or in a room where you want a place to study or work. This Christopher Knight Home Aalto Computer Desk is a great way to add study and workspace to any room.
---
This product was recommended by Stephen Curry from CocoSign
This desk is excellent as it has multiple storage cubbies, a workspace for a laptop, and can fold into a chalkboard. It can hold a load of up to 40kg/88lb. The design is waterproof, clean, and easy to assemble with standard as it comes with a wood stud wall mounting hardware. The foldable design saves space as it can be used as a computer table, desk, dining table, and coffee table. For your kids' safety purposes, it has rounded corners to prevent injuries.
---
This product was recommended by Adrian Carter from Beastly Energy
The GIKPAL computer desk that I bought last month has got to be one of my best buys from Amazon. I like my work space to be as neat as possible and free from even the tiniest of clutters. However, I also prefer that I have my stuff within arm's reach and that's why this desk is so perfect. It has enough compartments to keep my stuff near me, but can also keep them out of my sight when I don't exactly need them. Apart from this, the desk barely takes up any space in my home office and can easily match a room's aesthetic.
---
This product was recommended by Anthony Martin from Choice Mutual
I'd recommend this for the multi-tiered approach they have to a table. I find that that really helps utilize small spaces, you have your books or a cup of coffee on one level, your PC on the main slab, your notebooks or keyboard in-side the pull-out drawer and binders and larger files on the shelf to the side.
---
This product was recommended by David Parker from ErgoFurniture
– Available in various sizes according to user needs. – It comes with a dual smooth & noiseless motor to adjust the height precisely to provide an ergonomic working experience. – It Could be used as a sitting and standing desk in your home or office with its precise height adjustable feature. – It Comes with a touch controller, and you can able to set your three preferred desk heights. – Its sturdy aluminum frame can manage load capacity up to 125kg. – It offers a cable management tray, child lock feature, and above all, the installation is easy and simple.
---
This product was recommended by Michelle Devani from lovedevani
You might have an unutilized corner in your space, and the L-shaped Gaming desk is the perfect desk for you. The l-shaped ensures that it fits nicely into a corner and doesn't take too much space. It's easy to install and made out of strong and durable materials that guarantee to last for a long time.
---
This product was recommended by Michelle Devani from lovedevani
Its simple and minimalist design makes it a popular choice for offices. Whether you're working onsite or from home, this desk is functional and very affordable. It's a compact space-saver, but at the same time offers practical storage options to make sure that your desk stays organized and clutter-free.
---
This product was recommended by April Maccario from Ask April
Personally speaking, I have limited space in my home office. That's why a small office desk is all I need because I can also fit my needs within it. There are a lot of small office desks in the market but most of them are poorly built which causes them to wobble after some time. As for me, the best small office desk is the CubiCubi Computer Small Desk that you can buy through Amazon. What I love about this desk is even though it is just small, it has storage drawers that I can put my other things in. it also has the right amount of sturdiness that you need and you will not worry that it will give up on you anytime.
---
This product was recommended by Danny Marshall from Mortgage Rate Guru
Because it's only 32 inches wide and 32 inches deep, the GreenForest Folding Desk may easily fit into a small office space. The design has a lower tabletop that may accommodate a laptop, notepad, or textbook, as well as a 6-inch above shelf for a computer monitor or other workplace items. The desktop is built of medium-density fiberboard and is supported by an X-shaped metal frame. There is no assembly necessary, and the desk can be folded flat and tucked beneath a sofa when not in use.
---
This product was recommended by Richard Lubicky from RealPeopleSearch
This Small desk is suitable for offices where you want to give a feeling of spaciousness, because of its light and open design. The frame is metallic, resistant, and light, while the top is made of MDF wood with melamine coating. It leaves ample space at the bottom so you can accommodate your legs. Due to its weight, you can easily move it from one place to another and it must be assembled before use. It also has a bottom shelf to rack books and office supplies.
---
This product was recommended by Gabriel Dungan from ViscoSoft
When it comes to looking for a small desk, you never want to sacrifice storage space. The reason I love this desk is because of the shelves. They are the perfect size to hold smaller storage bins that can be used to hold documents, books and other important material. Not to mention, the desk is very affordable for how high-quality it is. Would definitely recommend!
---
This product was recommended by Ted Mosby from CamperAdvise
This smart wall desk is ready to take on the task. It has a small footprint at less than 32 inches wide, but it still has enough room for your laptop and a few essentials. The whole thing folds up and can easily be hidden in a closet or pushed against a wall until you need it again. Good things sometimes come in little packages. It only takes up a small amount of space due to its folding design, which can help you save space.
---
This product was recommended by Brian Lee from Drill and Driver
A desk that can be easily adjust its height to what you prefer thanks to its adjustable feet. This compact desk has a good desktop space that can hold your monitor or laptop above and still have much space for other things you need. It can also be placed with no trouble in the office because of the handy cable management tray that fixes and prevents your cables to look like a mess. You can also stretch your feet out under the desk without worrying that your feet might entangle with the wires. Very durable and can really be of great help to manage small offices or spaces to still have a good office table you can use.
---
This product was recommended by Andre Flynn from Gadnets
As the name suggests, this desk has an amount of two storeys over the main deck. Yes! It is more like a ladder with wide steps and settled to the wall. It doesn't only provide you with the workspace but also, a space to keep your office essentials with complete style and flexibility (as you can easily pull or push the bars). It is the best two in one desk for a small office.
---
This product was recommended by Michael Dean from Pool Research
Standing desks can help reduce back pain while keeping you more focused and productive. This desk is completely adjustable in terms of height, and doesn't take up much space, which allows for more storage space in your home office.
---
This product was recommended by Chad Severson from Ergotron
This desk has your lifestyle and wellbeing in mind as it can transform any place into the perfect work from anywhere office. It's also a great option for employees returning to the office to collaborate with colleagues. You can easily move it from room to room, and then tuck it away in a closet at the end of the day (the new workday commute!). This one is great for moms who may need to switch spaces easily for meetings/productivity or at the end of the work-day.
---
This product was recommended by Amanda Moore from DiamondLinks
Here's a small office desk that I've been in love with since I started working from home and bought it off Amazon. It's compact for the space I have it in, has efficient drawers that allow me to store important items, and it looks good. I specifically love the dark metal legs and white marble desktop. Some people may really enjoy the section where they can set their PC tower but I – who have a laptop – use it to store books and other important items. Overall, this is a great, small office desk for the home!
---
This product was recommended by Karim from Dehumidifier Depot
If you want to work in a comfortable and ergonomic way, the Coavas Computer Desk is worth the money. The desk has a metal frame and a fake wood top in an industrial style. I think it's a good size. It's 40 inches wide, 20 inches deep, and 28 inches tall. It might not be the best thing to use when you're working on a computer because it has a small depth, which is common in budget-friendly desks. But it will be good for reading, writing, and studying. If you need to store it or move it, this desk is easy to take apart and put back together again. A metal frame means that this desk can hold 200 pounds. When you use this table, the top is made of medium-density fiberboard, so you should not get it wet or put hot things on it. While the Coavas desk may not last forever, it is cheap and durable, making it a good choice for a short-term job.
---
This product was recommended by Stephan Baldwin from Assisted Living Center
A simple desk can completely change the look of a room. It can make it look less spacious, making working from home or smaller rooms very asphyxiating. You need a product that adapts to you and your surroundings or that is practical and barely noticeable, which this desk excels at. It has a very straightforward design, and while it lacks in the features department, it fulfills its purpose quite well: fitting in a room without taking too much space while not being uncomfortable to use.
---