This article showcases our top picks for the
Best Zoom Conference Microphone
. We reached out to industry leaders and experts who have contributed the suggestions within this article (they have been credited for their contributions below). We are keen to hear your feedback on all of our content and our comment section is a moderated space to express your thoughts and feelings related (or not) to this article 
This list is in no particular order.
This product was recommended by Rish Agarwal from Magica By Rish Agarwal
Very affordable with great sound clarity. Versatile so can be used for anything from music to podcasts & virtual meetings.
---
This product was recommended by Rish Agarwal from Magica By Rish Agarwal
The big brother of Audtio Technica AT 2005. Almost studio grade microphone which uses high quality A/D convertor with a 16-bit 44kHz sampling rate which makes sure you sound professional. One downside—You have to be in a really quiet room as this one is very sensitive.
---
This product was recommended by Rish Agarwal from Magica By Rish Agarwal
For the times you can't be on your laptop and have to take the zoom call on your phone, this comes handy
---
This product was recommended by Rish Agarwal from Magica By Rish Agarwal
The black sheep of zoom mics and I have seen it on most of the zoom setup desks I have seen. This is simple, plug, and play. Just works and is very economical.
---
This product was recommended by Rish Agarwal from Magica By Rish Agarwal
This one is a custom condenser capsule microphone with a frequency range of 40-18 kHz. With a USB 2.0 device, this is plug and play on any PC or Mac
---
This product was recommended by Phil Vam from Major Droid
Even though this mic may remind you of gaming, it's actually one of the best microphones you can get for that money, no matter what you need it for. The thing I like the most is that you can choose between four pickup patterns, and also it's extremely easy to know when this device is turned on or off (while it lights red, it's on). In my opinion, those two things are extremely important for Zoom meetings. Also, the sound quality is fantastic, and you connect it over USB port, which every single PC or Laptop have, so it's a Plug'n play device that work wonders. Most headsets with microphones installed often have a lot of noise, and they'll pickup every move you make, which isn't the case with HyperX QuadCast – it has a fantastic shock mount to prevent picking up noises you make while typing on the keyboard, writing on the desk, etc.
---
This product was recommended by Ilam Padmanabhan from IlamPadmanabhan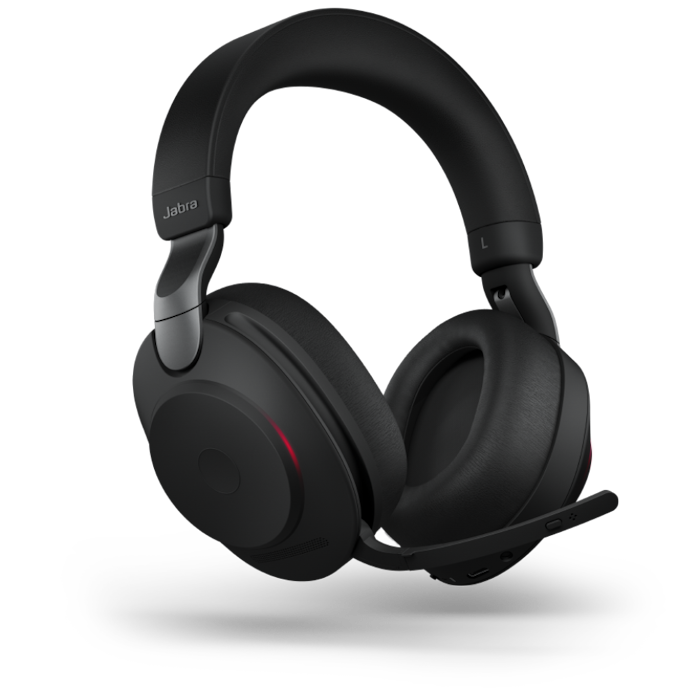 – Jabra Evolve2 85 variants that are certified to work with Zoom. This allows one to use controls like answer call/mute/un-mute/disconnect etc while using Zoom without actually touching the laptop. – Long battery life – once a week charging is usually sufficient. – Extremely efficient Noise cancellation, and a powerful mic that folds into the headset. – The headset is extremely comfortable to wear, and heavy on functions. It takes a while to adjust to it though.
---
This product was recommended by Sonya Grigoruk from SG Public Relations
It's super comfortable so I can wear it for hours, plus its durable and blocks out external noise so I can concentrate. It's surprising too, how much the headset's microphone made a difference in audio quality during Zoom calls. Its shockingly good and surprisingly affordable for $32.
---
This product was recommended by Ruben Gamez from SignWell
The Jabra Speak isn't the cheapest conference microphone, but you'll save yourself the embarrassment of awkward and confusing Zoom calls with this fantastic option. The sound quality is crystal-clear for better meetings with colleagues and clients, and the 360-degree design picks up sound from all angles – a byrid conference call dream. Plus, it comes with a handy carrying case for quick, easy transport from work to my home office.
---
This product was recommended by Mark Condon from Shotkit
With an array of modern features such as LED lighting and an easy connection, the Elgato Wave:3 broadcast-grade USB microphone with background noise frequency response is a top choice recommended by industry experts for teleconferencing on Zoom. You can easily upgrade your home meeting audio quality with its convenient, plug-and-play design, which lets you simply plug it into the USB-C port on your computer or laptop with a USB cable to get started. Thoughtfully created with high-powered headphone volume control for smooth and clear speech, the Elgato Wave:3 delivers broad-cast grade sound quality that eliminates background noise, static, feedback, and delays. Complete with a boom arm adapter and U-mounted desktop stand, you won't have to purchase adapters or stands separately. These essential included components let you easily position the Elgato Wave:3 microphone to your liking and height requirements. Rather than having to open your control panel and scroll through settings, simply use the dial knob for easy volume adjustments when you need to hear a quiet speaker or soften a louder one during Zoom meetings and calls. The Elgato Wave:3 microphone's sleek, contemporary design is available in black or white to work perfectly on any home office desk and is lightweight enough to move around the house, to the office, or even to a coffee shop as needed. And don't worry if you drop it during transport, its steel grill is durable to protect against scratches and other damage. It comes with state-of-the-art software to take the hassle out of sound monitoring and management, but if you have installation issues, the mic will not function properly and require troubleshooting. Whether you're a Mac or PC user, this top-performing Elgato Wave:3 USB Mic was carefully designed by a professional microphone manufacturer for improved output and unmatched sound, making it one of the best microphones for video calls and meetings.
---
This product was recommended by Robert Johnson from Coast Appliances
The aesthetic quality of this USB microphone first struck my attention. It looks like a celebrity microphone seen in music studios and concerts. I fell in love with the easy-to-use mic buttons to control the volume and the one-press mute functionality. The mic is handy for Zoom meetings. I love the speaker's voice's crispness because of its cardioid pickup feature. This high-quality mic is compatible with my devices, including my Android smartphone, desktop, and Mac laptop.
---