This article showcases our top picks for the
Best Video Conference Kit
. We reached out to industry leaders and experts who have contributed the suggestions within this article (they have been credited for their contributions below). We are keen to hear your feedback on all of our content and our comment section is a moderated space to express your thoughts and feelings related (or not) to this article 
This list is in no particular order.
This product was recommended by Ruben Gamez from SignWell
This video conference kit houses the camera, speaker, and microphone all in one slick case. While it might not be as well suited for large group video conferences, you can comfortably film up to 6 participants and pick up voices from every angle with 360-degree control. Better yet, it allows for wireless screen-mirror projection, so we can display presentations and other content on a smartphone, tablet, or TV while we talk.
---
This product was recommended by Isabella Diaz from Rubalkhali
The Logitech HD Pro Webcam C920 is my top pick for its 1080p video quality, Carl Zeiss optics, and autofocus feature. I really like that it has a 78-degree field of view, which is great for group video calls. I recommend this webcam to anyone looking for a great all-around option.
---
This product was recommended by Jeroen van Gils from LiFi
If you need a more robust video conferencing solution, then you might want to consider the Polycom RealPresence Group 700. This high-end system is designed for large conference rooms and features a PTZ camera, 1080p resolution, and advanced echo cancellation. No matter what your needs, there is a video conferencing kit that is right for you.
---
This product was recommended by David Zhang from Kate Backdrop
Mevo Plus is a live event camera that streams in Full HD 1080p and has a wide-angle 152° field of view. It also has an 8-hour battery life, so you can easily use it for long meetings or events. The best part about Mevo Plus is that it has a built-in 4K UHD sensor and a 10x lossless zoom. That means you'll be able to get clear, high-quality images even if you're zooming in from far away. The Mevo Plus live event camera kit includes: – The camera. – A carrying case. – A USB power adapter. – An Ethernet cable. – A quick start guide. It's everything you need to get started with video conferencing. I love Mevo Plus because it's easy to use and produces great results.
---
This product was recommended by James "Jimmy" Watts from Own The Grill
It's a fully remote-controlled system with Bluetooth speakers and microphones and a professional quality 1920 x 1080 pixel camera that delivers ultra crisp video, which makes video conferencing a pleasure rather than a chore. And best of all, it's easy to set up, install and use, and is well within the parameters of even the tightest budget which makes it an ideal VCS system for small businesses and freelancers.
---
This product was recommended by Raj Vardhman from WP-Stack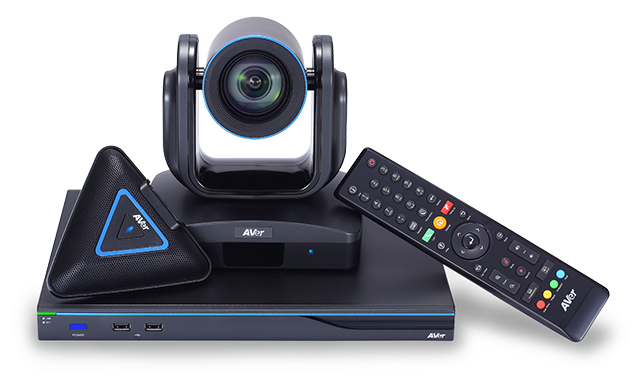 The EVC950 offered by Aver is a fantastic video conferencing solution that can act as an embedded 10-site MCU for large conference rooms, which means businesses are able to connect up to 10 different sites and enjoy full HD, 1080p resolution as well as high-quality audio across all 10 sites. Outstanding features such as a PTZ 18x total zoom camera with quick autofocus, one-touch recording for easy sharing, voice-activated layout switch to the speaker, and a collaborative annotation app for users, make the EVC950 a must-have for large businesses who need high-quality communication for teams across multiple locations. Even though the EVC950 may not be the most affordable option on the market when it comes to video conferencing solutions, I strongly believe it offers a great return on investment due to all of its amazing features, so I highly recommend it.
---