Best Quiet PC Fans
. We reached out to industry leaders and experts who have contributed the suggestions within this article (they have been credited for their contributions below). We are keen to hear your feedback on all of our content and our comment section is a moderated space to express your thoughts and feelings related (or not) to this article 
This list is in no particular order.
This product was recommended by Anthony Buzzetta from G TIER®
If you're looking for a quiet PC fan that still packs a powerful punch, I think the Noctua NF-A series is your best bet. Aside from its silent operation, the Noctua NF-A fan is a premium, high-performance solution for keeping your PC cool without creating extra noise. It has a superior cooling system that ensures maximum airflow with minimal vibration and noise output so you can keep your PC running efficiently without sacrificing peace and quiet. Additionally, the material used in these fans boasts long-life durability and high resistance to dust accumulation which further reduces noise while allowing greater heat dissipation. All things considered, I think this fan is easily one of the best quiet pc fans on the market today.
---
This product was recommended by Albert Ralph from Gadgets Brigade
I have seen a lot of excellent PC fans on the market in terms of airflow and performance but rarely has any other PC fan come close to the quietness of a Noctua NF-A12x25 PWM Fan, that's the reason why I use it in majority of my builds. One of the aspects that most people overlook is that a lot of people who want a quiet PC setup also tend to not want any frills like RGB and Noctua has had a consistent reputation for the best performing PC fans without any superficial shenanigans which is perfect for those low-profile builds where you want your PC to sound AND look minimal. It is also a 120mm PC fan which means it could fit most builds, including the compact Mini ITX builds without any hassle and that is the main reason why I recommend this particular fan to most of my readers.
---
This product was recommended by Dave Conway from Eco Motion Central
I recommend the Noctua NF-A14 PWM, which is available on Amazon. This fan is designed to be quiet while still providing excellent cooling. It has an advanced acoustic optimisation frame, and a custom-designed PWM IC for smooth, quiet operation. It also has a SSO2 bearing, which is designed to last for a long time and provide superior stability. The fan comes with a 6-year warranty, so you can be sure it will last for a long time. It's also compatible with most modern PC cases, making it a great choice for those looking for a quiet fan.
---
This product was recommended by Muhammad Asad from GPU Maniac
BeQuiet! is a brand known for manufacturing high-quality, silent PC components. Their high-speed Silent Wings 3 fans, specifically the BL083 model, are a great investment for anyone seeking optimal cooling performance without the typical fan noise. The fan's nine airflow-optimized fan blades generate a maximum of 2200 RPM at only 28.6 dBA, making it incredibly quiet even when operating at its highest speed. The fan's PWM function allows for precise fan speed control, making it easy to balance noise and cooling performance. The fan is also designed for easy installation with a rubberized frame that dampens vibration and noise.
---
This product was recommended by Isabella Gordan from Sleep Society
This is an ideal solution for PC users looking for a quiet fan that keeps their system cool. This fan features a low noise motor with sound dampening design to minimize any noise output. This fan will provide optimum ventilation with airflow up to 56 CFM while keeping things surprisingly silent. Its anti-vibration design and hydraulic bearing make it run smoothly while extending its life span. It's also built with a robust structure and comes with rubberized mounting screws and adapter cables to reduce vibrations even further. The Kingwin 120mm Silent Fan is undoubtedly one of the best quiet PC fans available today, making it perfect for those who need top performance without the accompanying racket often associated with computer cases.
---
This product was recommended by Fred Hoffman from The True Wilderness
This Star.com 80x25mm Bearing Quiet Computer Case Fan is designed efficiently provide maximum cooling and minimal levels for your PC hardware. It a 3-pin TX3 connector that fits most computer cases, as well as dust filters to help keep your system clean. The fan has a 4500 RPM speed and provides up to 40 CFM airflow with a low noise level of only 22 dB. It also has a long lifetime of up to 50,000 hours and comes with a 2-year warranty. The fan is an ideal choice for cooling system upgrades or replacements on PC builds that need quiet operation.
---
This product was recommended by Justin Carpenter from Modern Maids In Houston
The Razer Kunai Hydraulic 120MM aRGB PC Fan gives you the ultimate in cooling power with its powerful and quiet fans. The fan features PWM fan controller support to connect up to 8 fans, so you can customize your setup for maximum airflow. Powered by Razer Chroma RGB lighting, this fan creates stunning visuals as it cools your system. With its unique design and aero-dynamic blades, you can rest assured that your system stays cool at all times. This fan also features vibration dampening technology to ensure minimal noise levels, so you can game or work in peace. Get the best of both worlds with this powerful and quiet PC fan from Razer!
---
This product was recommended by Anthony Tobe from Coffee Brew Lovers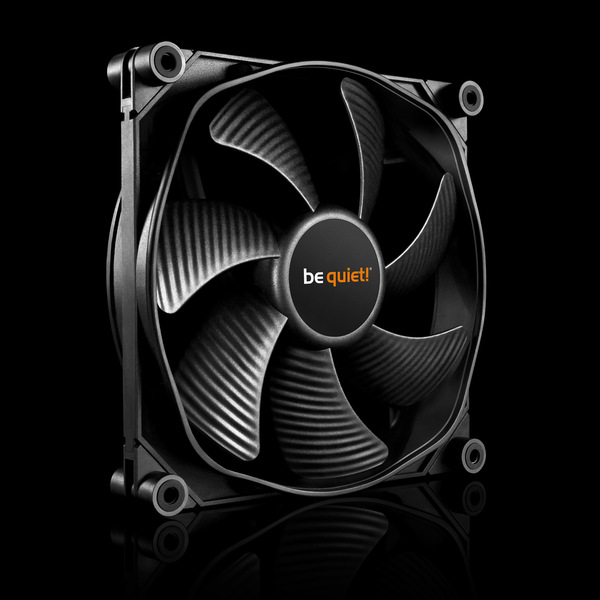 The be quiet! Silent Wings 3 is another excellent option for those looking for a quiet PC fan. This fan features unique airflow-optimized fan blades and an advanced fluid-dynamic bearing, delivering exceptional performance with minimal noise. The Silent Wings 3 comes with a 3-year manufacturer's warranty, making it a solid investment for anyone looking for a reliable and long-lasting fan.
---
This product was recommended by Anthony Tobe from Coffee Brew Lovers
If you're looking for a fan that combines both high performance and customizable lighting, the Corsair ML120 Pro LED is an excellent choice. This fan uses magnetic levitation technology to deliver both high performance and low noise, making it a great option for those who demand both from their cooling system. Additionally, it features customizable LED lighting, allowing you to add a bit of style to your PC build. The Corsair ML120 Pro LED also comes with a 5-year manufacturer's warranty, providing added peace of mind for anyone looking to invest in a high-quality fan.
---
This product was recommended by Eduarda dePaula from Find By Plate
A heating PC can lead to a lot of issues. This is why buying a PC fan is really important. My top pick for one is the Corsair SP120 PC fan. The fan has superb speed and can instantly cool down the PC. The fan can also detect which parts need what sort of cooling. The fan has its own exhaust too. But the best part is that it's absolutely noise-free. Plus, the Corsair SP120 is durable and will assist you for a long time.
---
This product was recommended by Mafe Aclado from Coupon Snake
The Nidec Servo Gentle Typhoon is known for its high performance and low noise levels. This fan has a unique design that includes nine fan blades with a specially shaped edge. This design helps to avoid turbulence and noise. Its double ball bearing system provides durability and long life. So, if you are someone who wants to keep their computer system cool without too much noise, you should go for this one.
---
This product was recommended by Brian Hardesty from On Display Signs
If you are looking for the best quiet PC fan, then look no further than be quiet!'s Silent Wings 4. That is because it uses a six-pole, three-phase motor, special mounts, and fluid dynamic bearings, which give you fewer vibrations and lower your power consumption for less noise. The fan rotates at a speed of 13.6 dBA at its quietest, which is similar to the sound of a whisper or someone calmly breathing. That makes this fan virtually inaudible.
---
This product was recommended by Derrick Hathaway from VEM Medical
This budget PC fan performs well with low noise. Its new blade design increases airflow and reduces turbulence, improving cooling efficiency. Addressable RGB lighting on the fan lets you create stunning lighting effects with compatible software. It fits most PC cases and has noise-reducing anti-vibration pads. The Cooler Master SickleFlow 120 V2 ARGB is an affordable, reliable RGB PC fan.
---
This product was recommended by Derrick Hathaway from VEM Medical
This versatile, affordable PC fan performs well and is quiet. Its dual-ball bearing system ensures durability and smooth operation. PWM control and built-in PST (PWM Sharing Technology) allow you to daisy-chain multiple fans and synchronize their speeds for optimal cooling. Its wide speed range and vibration-dampening rubber pads reduce noise. For quiet, effective cooling, the ARCTIC P12 PWM PST is a reliable and affordable option.
---
This product was recommended by David Reid from VEM Tooling
The Noctua NF-S12B redux-1200 PWM is a high-quality, quiet PC fan with great airflow. It balances cooling and noise reduction at 1200 RPM, making it ideal for quiet computing. PWM control lets you easily adjust fan speed. Its high-quality materials and durable design ensure long-term performance. Any PC cooling setup, from gaming rigs to workstations, can use the Noctua NF-S12B redux-1200 PWM.
---
This product was recommended by Michael Maximoff from Belkins
Corsair is a PC equipment powerhouse and I truly enjoy their work, and their recent LL120 fan series make for amazing fans for quiet gaming and PC use. Apart from making the coolest looking fans, Corsair makes an incredible mix between noise and performance, and this particular fan is one of the best looking and best performing while keeping it quiet.
---
This product was recommended by Joseph Counts from HiStylePicks LLC
If you're on the search for a quiet PC fan, look no further because the Arctic P12 is an ideal option. This PC fan has incredible features like a high-quality bearing, an efficient ventilation system, and consistent cooling. The great part about this item is that the motor emits a low-sound. The listing price for a single PC fan is only $8.45, making it a cost-effective option. If there's one investment you need to make for your PC, it's this one. By using this fan, users can ensure the smooth operation of their devices. The classic black design is an added bonus!
---
This article showcases our top picks for the