Best Quiet Mechanical Keyboard
. We reached out to industry leaders and experts who have contributed the suggestions within this article (they have been credited for their contributions below). We are keen to hear your feedback on all of our content and our comment section is a moderated space to express your thoughts and feelings related (or not) to this article 
This list is in no particular order.
This product was recommended by Athina Zisi from Energy Casino
This keyboard is designed to offer a quiet and comfortable typing experience, making it the best quiet mechanical keyboard on the market. The Newmen GM700 Keyboard features Optical Switch Mechanical Keys that provide a fast and responsive typing experience. The keys are designed to be quiet, making them perfect for use in a shared office environment where noise levels need to be kept to a minimum. In addition to its quiet operation, this keyboard also features an NKRO (N-Key Rollover) function, which ensures that every keystroke is registered, even during intense gaming or typing sessions. This means you can type or game with confidence, knowing that every keystroke will be accurately recorded.
---
This product was recommended by Marc Hardgrove from The HOTH
Matias employs unique key switches in its keyboards. When compared to traditional mechanical switches, the Quiet Pro Keyboard is less noisy. It is therefore the ideal keyboard for those who must type discreetly at odd hours or in quiet locations for work. The responsiveness and satisfying tactile feedback of the keys make typing enjoyable and comfortable. The layout of the keyboard is also good, making it simple to reach the most crucial keys.
---
This product was recommended by Jenna Scott from Funkeyzz
What I love about this keyboard is that it uses Logitech's low-profile GL switches, which have a tactile and quiet feel. I'm a fast typer, and I found that these switches require very little force to press, making them great for those who type quickly. The keyboard has a slim and stylish design with an aluminium frame, making it durable too. Plus, it's wireless and has a battery life of up to 40 hours on a single charge, which is perfect if you're someone who likes to work or game on the go. You can charge it via USB-C too. Another great feature of the Logitech G915 TKL is its dedicated media control panel and programmable keys. You can customize it to suit your needs and make it work best for you. It's a well-rounded keyboard that offers a lot of functionality and features. Overall, I would highly recommend the Logitech G915 TKL if you're looking for a quiet mechanical keyboard. It's a great choice for anyone who wants a high-quality keyboard that won't disturb those around them, while also having the features and functionality of a top-of-the-line keyboard.
---
This product was recommended by Susan Gagnon from Costumes Heaven
The keys are less noisy and more durable. This keyboard gives you a mechanical feel. Its six different backlight modes distinguish it from others. Backlight modes include six colorful lights and a breathing light option. You can also adjust the light's brightness. It is not only ideal for gaming, but it is also great for office environments. Some of its special features include 25 conflict-free keys, 11 multimedia keys, a waterproof design, and WIN keys that can be disabled when gaming. You can get this amazing peripheral device from Amazon for just $24.
---
This product was recommended by Sebastian Montoya from MNA Community
It is a challenge for a mechanical keyboard to be quiet while you use it. Still, the Keychron K8 Pro QMK wireless mechanical keyboard is the quietest mechanical keyboard on the market today. It has a slick design and interchangeable, fully customizable keys to fit your preference.
---
This product was recommended by Jean Lopez from LilyHair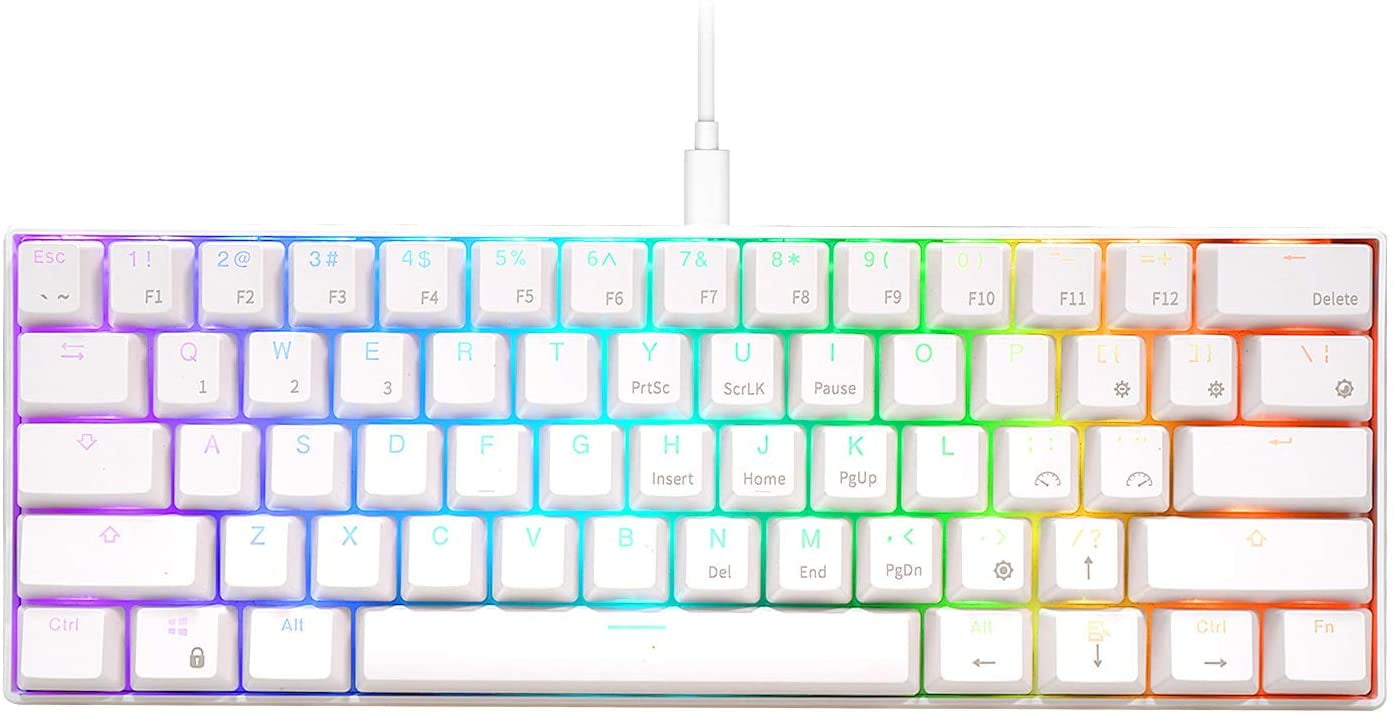 Personally, this keyboard is the best recommended for general use. It has RK red switches that are silent and gives tactile pleasure when typing. It offers a 60% keyboard function that includes RGB backlighting. This keyboard's RGB backlighting has multiple modes and choices you can make. You can also make adjustments to its backlight's speed and brightness.
---
This product was recommended by George Mouratidis from Stasher
If you're looking for a quiet mechanical keyboard with aesthetic form and smooth function, you might want to consider Satechi Slim X3. You'll get to have a keyboard that serves its purpose with bonus qualities. It has a backlit feature and slim form that increases its convenience and appeal.
---
This product was recommended by Brendan Tomasic from New York Informer
Due to its features and performance, the Logitech G613 LIGHTSPEED is now one of the best wireless mechanical gaming keyboards available. Logitech's proprietary LIGHTSPEED technology is used in the keyboard to provide lightning-fast 1ms response speeds and lag-free immersive gameplay. Additionally, the keyboard has Romer-G mechanical switches, which provide a responsive, tactile feel and reliable durability. The keyboard also provides a comfortable palm rest that can be adjusted, as well as six programmable macro buttons and media settings that are easy to operate. Furthermore, the keyboard is entirely battery-powered and has a battery life of up to 18 months. All of these characteristics make the Logitech G613 LIGHTSPEED keyboard the ideal choice for anyone.
---
This product was recommended by Jeff Johnson from Simple Homebuyers
A Das Keyboard will be your best friend if you're in the market for a quiet keyboard. The Das Keyboard 4 Professional is the thinnest keyboard in the world. It's a professional keyboard primarily for office use. But it can also be doubled down for gaming. Its high performance keys are designed to endure up to fifty million keystrokes. So you'll be able to use this keyboard for a long time. It also has a built-in USB hub, so you can charge your devices with it. It's priced at $167.
---
This product was recommended by Martin Seeley from Mattress Next Day
The ASUS ROG Falchion Wireless 65% Mechanical Gaming Keyboard is the perfect choice for gamers who need a compact and quiet keyboard without sacrificing performance. Its 68-key layout features Cherry MX Blue switches, which provide crisp tactile feedback with minimal noise. Its extended battery life of up to 72 days and its interactive touch panel makes it ideal for gaming and daily use. The keyboard is also equipped with Aura Sync RGB lighting, allowing gamers to customize their keyboards to match the look and feel of their setup. For added durability, the ASUS ROG Falchion Wireless 65% Mechanical Gaming Keyboard also features PBT keycaps which are resistant to wear and tear. And finally, for added protection against dust, dirt, and crumbs, the keyboard includes a protective waterproof case. With all these features combined, the ASUS ROG Falchion Wireless 65% Mechanical Gaming Keyboard is one of the best quiet mechanical keyboards on the market today.
---
This product was recommended by Nicole Bolton from Iconic Celebrity Outfits
Firstly, the Razer Blackwidow keyboard is compatible with all devices. The typing experience is super comfortable because it doesn't make any noise. You don't even have to worry about dust and grime collecting because you can easily clean this keyboard. Moreover, it can connect to four devices simultaneously. And the design is super sleek.
---
This product was recommended by Marcus Arcabascio from Hardware Stores
The sleek, compactly designed SteelSeries Apex M750 is one of the quietest mechanical keyboards you can find on the market. This fast, tight keyboard with a satisfying bounce back, responsiveness, and on-finger feel makes it an absolute favorite for gamers. Its operating noise is below average, mainly because of its linear design, which offers low force and smooth key presses. Furthermore, you can get this advanced piece of machinery at a reasonable price of only $19.95, making it one of the cheapest quiet keyboards available.
---
This product was recommended by Jessica Shee from iBoysoft
This keyboard is the best quiet mechanical keyboard. It offers customized lightning for each key. Each key has a different color. It makes it easy to spot them. This keyboard has a 16.8-million color spectrum built into it. The memory foam of the keyboard refreshes itself quickly after every use. This means it waives the pressure and offers comfortable typing every time. It allows users to type comfortably and conveniently. This keyboard enables the user to control media and all settings through the keys.
---
This product was recommended by Donnie Rand from American Association of Owner Operators, LLC.
The Corsair K60 is an excellent option for a quiet mechanical keyboard. This has an aluminum frame, which makes it durable. It is a high-quality keyboard that is worth every penny. It is compatible with PC devices and is connected with a USB 3.0 or 3.1 port. For gaming enthusiasts, the most attractive feature has to be the Cherry Viola key switches. This feature enhances typing speed and enables users to type with ease. This incredible keyboard costs only $99.99! This is a fair price considering the range of features it offers.
---
This product was recommended by Marcus Arcabascio from Hardware Stores
Are you looking for a quiet keyboard for your office? If yes, then look no further than Corsair Strafe RGB MK.2. It employs Cherry MS Silent switches, because of which it doesn't even make a sound. These switches minimize operational noises by diminishing the audible clicking. It might come at a steep price of $130, but sometimes you have to pay the price for something extraordinary. Corsair MS Silent switches have a linear design and are thirty percent quieter than any other keyboard available on the market.
---
This product was recommended by Jamie Irwin from Perfume Empire
This keyboard features Logitech's own Romer-G switches which ensure ultra-fast response times and near-silent operation with every keystroke. The individual keys are designed for durability even after millions of clicks, and their compact design makes them perfect for carrying around on trips or conferences.
---
This product was recommended by Jamie Irwin from Perfume Empire
With Cherry MX Speed Silver Switches, this keyboard provides speedy responsiveness while making sure your typing session stays whisper quiet thanks to its advanced dampening system inside each switch housing structure. It also comes with many customizable options like personalized macros, illuminated backlighting, and more.
---
This product was recommended by Jamie Irwin from Perfume Empire
This budget-friendly option from Redragon features Outemu Blue switches which help to reduce noise greatly when compared to other traditional mechanical keyboards in this price range thanks to their sound-dampening mechanism inside each switch housing unit itself! Plus it comes with full N Key Rollover support so all your inputs will always be recognized accurately regardless of how fast they are inputted into the game itself.
---
This article showcases our top picks for the