This article showcases our top picks for the Best Quiet Cooling Fan. We reached out to industry leaders and experts who have contributed the suggestions within this article (they have been credited for their contributions below).
We are keen to hear your feedback on all of our content and our comment section is a moderated space to express your thoughts and feelings related (or not) to this article This list is in no particular order.
This product was recommended by Nicky Bowers from LetLoos Ltd
When you buy a Dyson, you know you are getting the best technology available and it will last you a long while. It is quiet, it will cool whatever you need, and it will be effective in what it does. For a small area, a large area, or even for cooling certain items it is effective."
---
This product was recommended by Robert Johnson from Coast Appliances
Enjoy a serene day and quiet sleep using this Dreo Nomad One Tower Fan. This 36-inch compact tower fan has a supercharged electric motor that delivers high-speed cool air to your living space quickly at up to 24 feet per second. Aside from its algorithmic impeller design, you'll benefit from its soothing airflow and robust features, such as the auto mute, 8-hour timer, and display auto off for convenient operation. This fan is also safe to use with its pinch-proof grills and easy to clean with its removable impeller wheel and rear grille.
---
This product was recommended by Fred Hoffman from The True Wilderness
The Vornado Pivot6 Whole Room Air Circulator Fan is designed to provide maximum air circulation and cooling in any room. With its 4 speed settings, this fan helps you stay cool in warm weather, while also helping to circulate air throughout the entire room. The remote control allows you to adjust the fan's speed as needed, and it has a rotating axis that ensures proper air flow in all directions. This fan is designed with a slim and sleek finish, making it perfect for any room. It also operates quietly, ensuring you can sleep or work without being disturbed by the noise of the fan. With a 3-year warranty and an energy-efficient motor, this fan will keep your space cool and comfortable for years to come. Experience the cooling power of the Vornado Pivot6 Whole Room Air Circulator Fan today!
---
This product was recommended by Hannah Sanderson from Clever Canadian
Using a combination of clever physics and aerodynamics, this desk fan will multiply the air it sucks in, so uses less energy and generates less noise in the process. You can use it in your bedroom and office table. The base of the fan has silicone pads so it doesn't slide around your desk while it's being used.
---
This product was recommended by Eleanor Fletcher from The Best Brisbane
You can put an end to the days of sweltering in the summer heat and hefty power bills thanks to this fan's incredible energy efficiency. Utilize the oscillation function to combine the two strongest types of fans into one small device with silent controls. The adjustable speed and sound settings on this Honeywell model are among its best features. You have a good selection with eight levels to pick from so you can discover the ideal ambiance for your room. On the digital display board, there is also a thermostat that may be adjusted.
---
This product was recommended by Eleanor Fletcher from The Best Brisbane
This air circulator, an air circulating fan with a powerful motor, can produce wind that is strong enough to fulfill your various needs. This little fan's three different speeds ensure that you can always enjoy the pleasantly cool air. This oscillating desk fan is appropriate for the bedroom, living room, and workplace. It allows you to enjoy the cool summer comfortably and affordably.
---
This product was recommended by Eleanor Fletcher from The Best Brisbane
A bladeless fan with a nice and smooth design is the pureFlowQT7. The fan can deliver the precise breeze you choose. Regarding oscillation, this fan has both a 90-degree vertical tilt and an oscillation. With this function, the fan may be positioned at any angle and still produce a powerful, consistent airflow. On its lowest setting, the QT7 emits sound at a volume of just 13 decibels. The fan makes a noise that is 43 decibels loud on its highest setting. Even at its loudest setting, it does not reach 50 decibels of library noise.
---
This product was recommended by Rashid Khan from Dubai's Best
To provide you with the best airflow for your room, this fan has three different settings. It oscillates as well, combining the effectiveness of a tower fan and an oscillating fan into one amazing unit. Use the night option to lower the fan speed, dim the control panel, and set an automatic shut-off for 7.5 hours to improve the quality of your sleep.
---
This product was recommended by Min Tom from Happy Hong Konger
To circulates the air all around you, a Vornado circulator develops a special airflow pattern called Vortex Action. The 133 delivers comfortable, compact air circulation for the space you're in by circulating all the air around you, ensuring that you're consistently comfortable. From the workplace to the laundry room, the tiny circulator maintains the space you're comfortable with.
---
This product was recommended by Min Tom from Happy Hong Konger
This fan works best in modestly sized rooms and enclosed areas that can accommodate the cooling wind it produces. Despite the fact that this fan is rather small, it is a good idea to be sure it will fit in the location you have in mind before buying it. The fan speed may be swiftly changed between its three distinct speed settings, and it is simple to modify. It has an energy-efficient motor that can help you cool your house without significantly raising your monthly electric bill. This fan is silent, according to several reviewers.
---
This product was recommended by Min Tom from Happy Hong Konger
The Be Quiet Silent Wings fan lives up to its name. This small fan's objective is to lessen the noise produced by conventional blade fans. High air pressure and powerful wind can be produced by a rubberized fan frame without the use of additional electricity or noise. You shouldn't hear any more noise pollution even if you turn this fan up loud.
---
This product was recommended by Nathan Walters from Best Reviews UK
The AIRPLATE S5 is an excellent cooling fan system for home theatre AV cabinets because it is both quiet and powerful. It features an 8 fan with adjustable speed control for precise cooling, and its low- noise operation makes it ideal for use in a home theatre environment. The fan is also designed to be easy to install and can be set up in minutes. Additionally, the fan's low-vibration design ensures minimal noise disturbance. With its quiet operation and adjustable speed control, the AIRPLATE S5 is an ideal cooling solution for any home theatre AV cabinet.
---
This product was recommended by Craig Anderson from Appliance Analysts
I recommend the Rowenta VU5670 fan because its unique blades were built for strong and whisper- quiet airflow (35 decibels of noise) which makes it ideal for summer nights. On top of that, its sleek design, sturdy frame, and ease of cleaning mean that this fan will keep you satisfied for years to come. Although it requires a higher budget than some other fans, the quality and quietness are worth every penny.
---
This product was recommended by Irene Graham from Spylix
The Honeywell HYF290B tower fan, a component of the company's QuietSet line of whole-room fans, has received rave customer reviews. It emits noise at a level between 26 and 41 dB. It can effectively handle a large room's worth of air circulation and features 8 different speeds and 5 different power and sound levels. The LED control panel is a great nighttime feature, and it can be dimmed to utter darkness if that's what you require for sleep. Turning down the fan's speed makes no noise, but it continues to provide effective cooling. The slim profile makes it simple to store away discreetly.
---
This product was recommended by Irene Graham from Spylix
The Dreo tower fan is ideal for homes that want greater oscillation, wireless control, and faster air distribution, and it measures 42 inches in height. Because of its bladeless technology and unique air duct design, it distributes air evenly throughout the space. The air-duct layout also significantly reduces background noise by 34 to 48 dB. As a result, it doesn't matter how discreetly you put it away; you won't be immune to its effects.
---
This product was recommended by Dave Chester from Custom controls
For superior comfort, set the 90-degree pivoting head of this Honeywell fan on the floor or a table. There are three fan settings available, and you may experience the cooling impact of air movement up to 25 feet away. This is the finest quiet fan we've found for sleeping because it's affordable and adaptable, with a pivoting head that effectively circulates air. It can be set up on the floor, countertop, wall, or workstation. It is also cited by users as a benefit that it is portable and only 2.6 pounds heavy. Additionally, employing this powerful fan for comfort reduces the energy costs related to home air conditioning.
---
This product was recommended by Samrudha Salvi from BuildFBA
The 12 DC Pedestal Air Circulator Fan – DV12PDQM costs £89.95. These fans are fantastic and are used in our offices. This Devola quiet fan is designed to be efficient, robust, and near-silent, and it has three distinct modes, including normal, nature, and sleep, so you can adjust your fan to any unique needs. It also has a vertical oscillation of 69 degrees, a 12-hour timer, and 12 variable fan speeds. Ideal for bedrooms, living spaces, and offices.
---
This product was recommended by Maximilian Wühr from FINN
I purchased this quiet, bladeless fan because, at nearly 12 inches tall, it's the perfect desktop height. It quickly cools down my warm office without disturbing background noise for conference calls and Zoom meetings. Its bladeless design makes it safe around pets and children, and though it runs continuously when plugged in, you can move it around and run it wirelessly for up to 12 hours.
---
This product was recommended by Brandon Lee from Reptile Maniac
The best quiet cooling fan on the market is the Arctic Air Ultra Portable Tower Fan. This fan is designed to provide a whisper-quiet cooling experience with its proprietary noise-reduction technology. It features a slim design that takes up minimal space, and the adjustable head allows you to direct the airflow in any direction. It also comes with a remote control so that you can easily adjust the settings from a distance. With its powerful motor, you will get the cooling you need without any noise.
---
This product was recommended by Matt Kerr from Applianced Geeked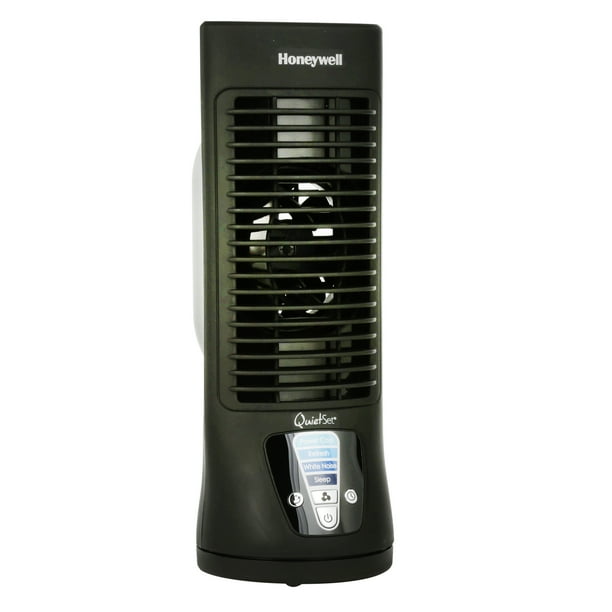 The Honeywell QuietSet Slim Mini Tower Fan allows you to control the cooling power by providing four degrees of silent operation. It has groundbreaking QuietSet technology and a streamlined design that won't take up too much room in your house. Honeywell has tower fans, floor fans, and oscillating fans for every room in the house.
---
This product was recommended by Matt Kerr from Applianced Geeked
The Dreo Pilot Max, with its quiet 25dB motor, is an excellent choice for cooling your bedroom during the warm months. This 120-degree oscillating fan has a fanless 42-inch blade and up to 12 wind speeds. The only thing it lacks is a lit-up panel where the buttons are because it's difficult to see what you're doing in the dark.
---
This product was recommended by Matt Kerr from Applianced Geeked
The Beydoa Stroller Fan was built with strollers in mind, but this great, inexpensive, and lightweight fan has many other applications. It's simple to hold the fan and carry it around if you connect the tripod arms. Alternatively, you may remove the tripod entirely and use the flip stand to position it anywhere you like. The Beydoa Stroller Fan has four speed settings, including a low fourth gear at 20dB, to keep things peaceful in your bedroom while you sleep. Using a USB cord, you can fully charge the fan in around four hours, and depending on the setting, it may last up to eight hours, providing continuous cooling.
---