The total mobile services revenue in the Asia-Pacific (APAC) region will increase from US$307.4bn in 2020 to US$390.9bn in 2025 at a compounded annual growth rate (CAGR) of 4.9%, supported by steady growth in mobile subscriptions and increase in aggregate mobile services average revenue per user (ARPU), according to GlobalData, a leading data and analytics company.
GlobalData's telecom insider report Mobile Broadband Trends in Asia-Pacific predicts that India will witness the fastest growth (CAGR of 9.1%) in terms of mobile service revenue over 2020-2025, primarily supported by an increase in adoption of 4G mobile. India will be followed by Australia with a revenue CAGR of 8.2% over the forecast period, where operators are aggressively investing in 5G.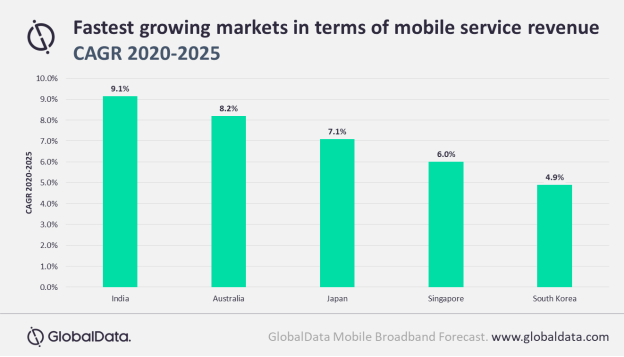 "Mobile data services segment represents the largest revenue contributor to the overall mobile services market in Asia-Pacific. Mobile data ARPU will grow from US$3.49 in 2020 to US$4.44 by 2025, supported by an increase in the adoption of higher ARPU 4G and 5G mobile service plans offered by operators."  

Aasif Iqbal, Telecom Analyst at GlobalData
Handsets will account for 90.9% of the total mobile subscriptions in 2020 in Asia-Pacific and will remain the leading mobile device category through 2025. Meanwhile, M2M/IoT subscription share will increase from 6.5% in 2020 to 10.2% by 2025 as operators continue to develop vertical-specific solutions.
4G will account for the largest share of mobile subscriptions in Asia-Pacific over 2020-2025, supported by continued efforts by operators to expand LTE coverage and deliver high speed services to users. For instance, Telenor and Ooredoo in Myanmar and NTT and Rakuten in Japan have been aggressively investing in LTE network expansion.
During 2019-2020, several operators in the Asia-Pacific region rolled-out 5G services. 5G connections will witness significant growth over the forecast period and account for 1.6 billion by 2025.
Mr Iqbal concludes:
"The COVID-19 pandemic has posed certain challenges for Asian operators in terms of 5G development and will cause delays in the rollout of 5G services in the region. Operators should strategically deploy 5G networks in high-density urban areas as more industrial use cases can help the monetization of 5G." 
This post contains affiliate links. Affiliate disclosure: As an Amazon Associate, we may earn commissions from qualifying purchases from Amazon.com and other Amazon websites.