This article showcases our top picks for the
Best Office Pens
. We reached out to industry leaders and experts who have contributed the suggestions within this article (they have been credited for their contributions below). We are keen to hear your feedback on all of our content and our comment section is a moderated space to express your thoughts and feelings related (or not) to this article 
This list is in no particular order.
This product was recommended by Chris Alexakis from CabinetSelect
After a long day of taking notes, your hands may feel fatigued, or your fingers might hurt, and that's something to avoid if you need to write every day. The design of your pen can completely alter the experience that you have with it. Going for an ergonomic pen might be the best option to ensure you're taking care of your hands while avoiding any discomfort. This option has a center of gravity and comfortable grip, meaning you can use it more reliably for longer amounts of time.
---
This product was recommended by Ted Mosby from CamperAdvise
Smooth, bold ink meets a stunning design to create a high-performance gel pen with the Sharpie S·Gel. Featuring no smear, no bleed technology, it always delivers vivid writing. It's a high-performance gel pen with a sleek, professional appearance that you won't want to lend out. Meanwhile the contoured rubber grip, sleek, modern design, and eye-catching finish make it a pen to envy.
---
This product was recommended by Charmaine Allen from LuvMeKitchen
When you are working in your office it is always nice to have a journal and a pen to jot down your ideas. You never know when an idea will come up that will guarantee you that coveted promotion. These multi-colored pens are a great addition to any office. These pens are crafted to exacting standards and are a great dependable everyday option. An added benefit of this office pen is it provides ballpoint ease of use and the elegance of Fountain Pen ink-flow.
---
This product was recommended by Joshua Skidmore from Fisher Space Pen Co.
The Fisher AG7 Original Astronaut Space Pen is used on every NASA crewed space mission and was created for use in space but loved on Earth for its durability, functionality and design. It writes upside down, under water, in extreme temperatures from -30° to +250° F (-35° to +121° Celsius), over almost any surface, and three times longer than the average ballpoint pen. Fisher Space Pen products are manufactured in America. Fisher Space Pen products were recently featured on FOX & Friends Made in America Products Showcase. The company was invited to the 2019 White House Made in America Showcase and was featured in FOX Business' Mornings with Maria, as well as on ABC World News Tonight with David Muir's Made in America series.
---
This product was recommended by Ouriel Lemmel from WinIt
I recommend the Pilot Dr Grip Ergonomic ballpoint pen. It has a latex-free, double comfort grip and balanced gripping axis designed to help writing stress. It has a perfect weight distribution which is usually only found in much more expensive pens and delivers ultra-smooth writing without giving you an aching hand after only a few minutes.
---
This product was recommended by Sally Stevens from FastPeopleSearch
I like these uni-ball retractable pens and have purchased them in several different variations in order to determine clearly which one I prefer. All are comfortable to write with, smooth and free of skips and any other blotching. For my personal preference the 0.5mm point, what uni-ball calls micro point and others might call fine point, is pretty sharp and a bit too fine for my heavy-handed writing. The medium point, 0.7mm, is still a very fine line in my opinion, and writes very well. They write so lovely!
---
This product was recommended by Alina Clark from CocoDoc
They are reasonably priced, write cleanly, and usually don't smudge if you let them dry overnight and don't scrub over the lines with a marker. I tend to write with too much pressure to use microns, and always ruin the tips. These don't have that issue, plus the ink supply lasts much longer. The .5 write plenty fine enough and are recommended if you're not hooked on microns. If you want bolder, a .7 is good. Love it, 10/10!
---
This product was recommended by Olivia Tan from CocoFax
This is the full definition of writing down things in a golden pen because it is made from the finest and high quality aluminum with the ability to spin with 20 seconds without flaws, inks can be refilled without stress and every curves and lines made from the pen gives an excellent soft finishing which elevate writings to another levels.
---
This product was recommended by Jar Kuznecov from Water Softeners Hub
This pen is as close to the Rolls Royce of writing instruments that I've found. It's a beautiful, durable and luxurious-feeling object with just enough heft for your toughest messages but still light enough. Hence, it feels effortless when you need something more delicate or quick note-taking.
---
This product was recommended by Don Adams from RegionalFoundationRepair
These pens are the classic pen and indispensable for any office, be it at home or in a dedicated office space. They are easy to grip and write excellently. As this style is transparent you can see easily the level of ink remaining which saves you a lot of time while writing minutes, for example. Why I also like these pens is how they're replaceable. I always forget my pen, or can't find it, so having a box of pens is very handy.
---
This product was recommended by Olivia Long from DroneGuru
There is nothing better than a great, long lasting pen that can help you write with ease. The Zebra F-301 Ballpoint Pen is one of the best as it glides across your paper without any weird patchiness or ink blotches. It is also super comfortable to hold as it has a non-slip grip that makes it easy to hold onto, and is so lightweight, making it easy to carry around. What makes this pen even better is that it helps to reduce the amount of pens that end up in the garbage, as these pens are meant to be refilled. This also means spending less money each year on pens, as you simply need to buy the ink refills. These pens are the perfect addition for any office and will probably be stolen from colleagues once they try them!
---
This product was recommended by Shiv Gupta from Incrementors
The Zebra F-701 ballpoint pen is a strong favorite among people looking for a corrosion-free, substantial, and durable writing instrument that is made to last, as may be useful in an industrial environment such as a laboratory. This stylish pen, with continuous flow and superb weight distribution, has proven to be popular with customers who like a ballpoint pen that provides a line without skipping or blobbing, with an easy-to-hold grip and click-free retractable tip.
---
This product was recommended by Todd Bissell from RideFAQs
Looking for a lefty-friendly rollerball pen with extra-fine precision? Our top pick is the Pilot Precise V5 RT. This retractable pen features smooth, skip-free writing, laser-accurate lines, and a bright color palette. The ink mix is unique, allowing for steady strokes; the rubber grip is comfortable for longhand writing; and the airplane-safe design prevents leaks during altitude changes. Pilot's products are known for being the pinnacle of fine penmanship, and the Precise brand is particularly popular. Particularly for lefties, because smudging is almost non-existent. The Pilot Precise V5 RT is a little pricey, but it's well worth it. You'll be grabbing for your favorite moleskin as soon as you see the classic pattern.
---
This product was recommended by Cindy Corpis from SearchPeopleFree
Every pentester loves the performance of this office pen, and it's extremely budget-friendly. Being the weightiest and thickest pen among the collection of fountain pens, it's undoubtedly comfortable on writing and provides a great grip to beginner fountain pen writers. This is the best official pen, which feels expensive and aesthetically pleasing. Moreover, it includes a medium-size nib, which offers a beautiful flourish to handwritten notes, signatures on vital documents, and calligraphic texts.
---
This product was recommended by Becky Brown from ShoppingKim
One of my favorite office pen choices is BASTION Bolt Action Pen. This is a premium, carbon fiber, luxury pen for executives, managers, and other office professionals. It's quite a costly pen at $49.99 but it's certainly worth the money if you enjoy using premium pens at the office. It's built with powerful, stainless steel material and it feels amazing in the hand. Apart from office use, it may also serve as an emergency self-defense tool and glass breaker.
---
This product was recommended by Logan Mallory from Motivosity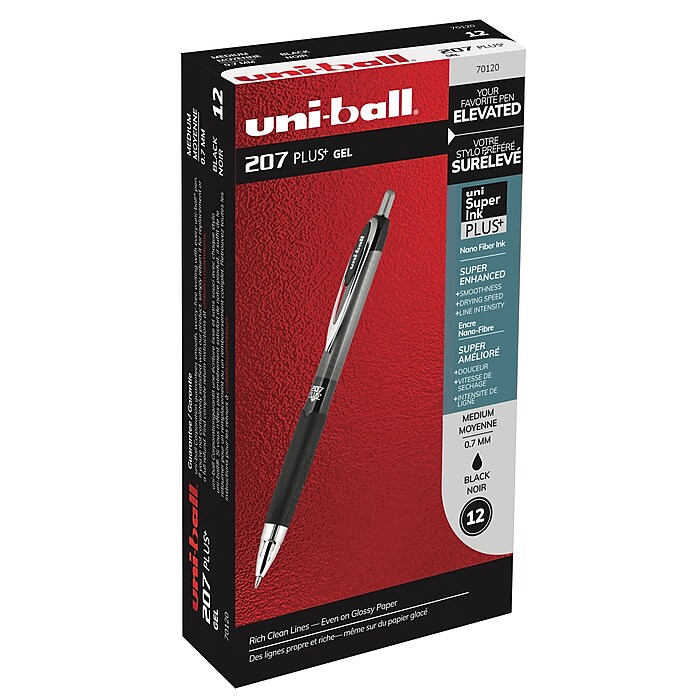 This pen writes smoothly and dries quickly so there's no smudging. It's a true black ink which makes messages easy to read. It's retractable so there's no worry of losing the cap and having the pen dry out. As a bonus, the Super Ink PLUS+ technology protects against water, fading, and fraud.
---