This article showcases our top picks for the Best Shredders For Small Business. We reached out to industry leaders and experts who have contributed the suggestions within this article (they have been credited for their contributions below).
We are keen to hear your feedback on all of our content and our comment section is a moderated space to express your thoughts and feelings related (or not) to this article This list is in no particular order.
This product was recommended by Daniel Foley from HomeTree
I would go with Aurora desktop-style cross-cut paper shredder as the best shredders for small businesses. Many businesses with shredding needs laud this compact desktop shredder. I refuse to spend a lot on a shredder when all I use it for is credit card junk mail and relatively few banking [or] confidential papers. And for that reason, this desktop-style paper shredder is perfect. This small shredder is well-made and fits perfectly on the corner of a desk if you're looking for a small shredder for light use. Tiny and light use are the main terms. Hundreds of users think it's a great deal, ideal for everyday junk mail. I've used it to shred whole pieces of mail and credit cards without even opening them. It was able to handle both of them with ease. The price-to-value ratio is unmatched. Others appreciate its small scale. This is something I can stash and take out when I need it.
---
This product was recommended by Shad Elia from We Buy Houses Here
Being a business owner, Aurora's professional strip cut paper shredder has been my choice for some time now. I've been using this to shred about 15 years' worth of papers, and I've got to admit, the consistency, the number of sheets it can handle at once, its constant availability, and, most importantly, the key two features that really set it apart are the reverse feature and, so excellent, the self-regulating heat feature, which shuts it off if it gets too hot so you don't damage it, thanks to its binless nature, this shredder can be used with any size trash can, even extra-large ones. This is the only one I have seen that has the flexible arm to match any can AND has a credit card shredder. If you think this isn't as heavy-duty as other shredders with bins, I wanted it to shut off after 20 minutes, but I used it up to three hours at a time just fine.
---
This product was recommended by Jim Hildenbrand from Tiger Financial
Even though it can handle a heavy-duty load size of up to 14 sheets at once, this paper shredder is very quiet. This shredder is one of the quietest I've ever used. Even when shredding eight to ten sheets of thick stock paper, the shredder handles its 14-sheet capacity with ease, and I have yet to experience any jams while using it. When you are using it, a built-in fan operates to keep it cool. In comparison to their previous shredder, this one is bigger, shreds faster, and is so much quieter, and it shreds credit cards and dense sheets of paper at the same speed and efficiency.
---
This product was recommended by Megan Ayala from PpatriciaAndCaroly
The best shredder out there in the market has to be a Bonsai paper shredder. The Bonsaii Paper Shredder provides the ability of a commercial shredder at an affordable price, with a continuous run-time of 240 minutes and the ability to shred credit cards, CDs, and more. As compared to other home paper shredders, the Bonsaii Paper Shredder has a large-scale capability and superior performance while staying under $300. The 4S30 has a 10-sheet shredding ability, allowing you to shred even larger documents quickly. Furthermore, this shredder can remove not only paper but also credit cards, CDs and DVDs, clips, and staples, saving you time and making it simple to dispose of junk mail, papers, and documents. Your personal information is protected by the micro-cut shredder, which produces tiny particles. You can shred huge volumes of material in a single session thanks to the shredder's 240-minute continuous running time. The shredder only requires a 10-minute cool-down period after 240 minutes, making it an excellent option if you have big shredding jobs or expect to use it regularly during the day. When the computer is overloaded, automatic jam detection detects it and prevents it from jamming and the shredder is relatively quiet, making it possible to have a regular conversation while it's working.
---
This product was recommended by Ethan Ellingson from DynasysTech
The best shredder in the market has to be Amazon Basics 150-Sheet Autofeed Micro-Cut Paper Shredder. This paper shredder has the highest capacity of any model I've seen, shredding 150 sheets at a time. The beast will chew through 150 letter-size papers and sit and wait for the little one to finish. I've even tried shredding over 300 pounds of paper, and it only got warm after a little over 14 hours of nonstop use. It shreds up to 150 pages simply by opening the cover and putting the pages in a tray, just like a printer. It sucks and shreds them.
---
This product was recommended by Jason Brown from ApprovedCosts
If you want a professional-grade high-security paper shredder that you can use for 60 minutes continuously, get an Aurora AU1210MA. You can confidently shred your office documents to as small as 5/32 by 15/32 inches. The machine will also allow you to shred credit cards, DVDs, and CDs. It's one of the most convenient tools that your office will ever have.
---
This product was recommended by Jason Brown from ApprovedCosts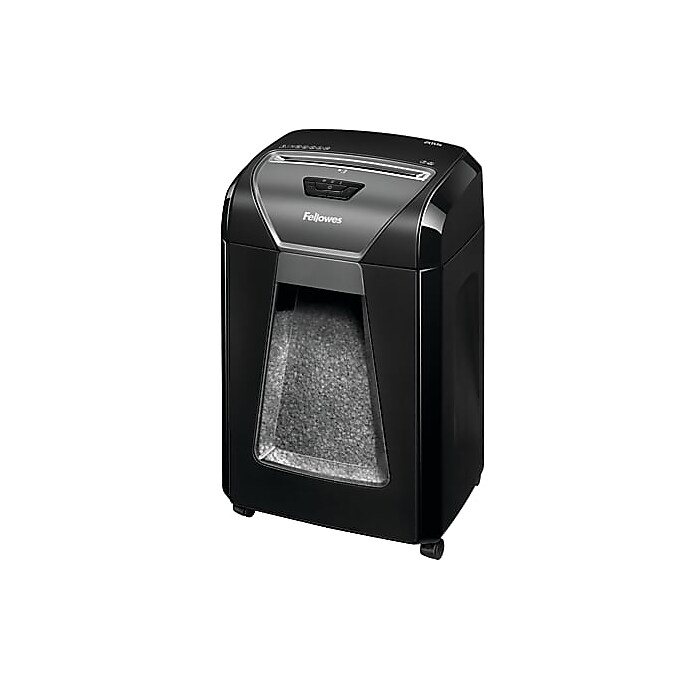 The Fellowes LX22M Powershred is a professional top-quality office shredder. You can enjoy up to 20 sheets for every pass quietly. It comes in a stylish matt black variant or a minimal white edition. The shredder has a bin capacity of 8 gallons and can continuously run for 30 minutes.
---
This product was recommended by Jason Brown from ApprovedCosts
Are you looking for a small office shredder that can handle up to 24 sheets in one go? If you are, then you should get an AmazonBasics – 24 Sheets (P-4). The powerful shredder can handle shredding and destroying paper, CDs, DVDs, and even credit cards. It comes with a security level of P-4 and a 7-gallon pull-out bin.
---