Best Coffee Machine To Buy
. We reached out to industry leaders and experts who have contributed the suggestions within this article (they have been credited for their contributions below). We are keen to hear your feedback on all of our content and our comment section is a moderated space to express your thoughts and feelings related (or not) to this article 
This list is in no particular order.
This product was recommended by Shabbir Noor from Coffee Brewster
The Technivorm Moccamaster brews superb coffee thanks to the pre-wetting that blooms the coffee and the showering head that distributes water evenly over the coffee bed. It also maintains the temperature at a steady 200 degrees F that makes for an optimal brew. This machine is on the pricier side, but it's the best investment you'll make for your coffee brews.
---
This product was recommended by Harriet Chan from CocoFinder
The Barista Pro is an automatic machine that allows you to choose from 30 different grind sizes and five temperatures together with four filter baskets. The coffee machine has a basic steam wand for frothing milk based on your preference. Two of its filter baskets are for preground coffee, and the other two for whole coffee beans.
---
This product was recommended by Philipp Zeiske from Zeitholz
If you're on a budget and just need a no-fuss coffee machine to make your mornings simpler, this one by Mr. Coffee is a great pick. Your coffee brews quickly, it tastes great and it's simple enough for anyone to use. Highly at par with other expensive coffee machines, minus the frills.
---
This product was recommended by Abby from Baby items
COMMERCIAL USE–Brew 55 cups (8 Liter / 2.1 Gallon) in 30 minutes. Built for catering service, ideal for caterers, restaurants, churches, schools, health care facilities, offices and shops. DURABLE–Food grade 304 S/S body resists dents and maintains lustre over time. High quality spigot dispenser is installed for heavy duty usage. SAFE TO USE–Automatic shut-off and keep warm function. Includes an easy-to-read "heat and keep-warm" indicator light that illuminates whenever coffee is ready to serve. Easy TO FILL– Coffee level markings in the urn's interior make measuring water A snap. And easy for you to know when it is time for another refill. NO PAPER FILTER NEEDED–304 stainless steel filter basket is durable and easy to clean, no paper filter needed. ETL CERTIFIED–All parts are ETL Intertek certified. Safety and quality certified. Use under 110-120 voltage. 2 YEARS NEW REPLACEMENT –Buy with confidence, as we offer 30-days refund/replacement and 2 years new replacement warranty. ABOUT SYBO–30 Years stainless steel kitchenware manufacturing and R&D experience, dedicated to offer the best line of products.
---
This product was recommended by Abby from Baby items
Classic brushed metal design with a 12-Cup carafe with ergonomic handle for comfortable, dripless pouring. BPA free Brew pause feature lets you enjoy a cup of coffee before brewing has finished. Adjustable heater plate (low, medium, high) ensures that your coffee stays at the temperature you like best 24-hour advance brew start, programmable auto shutoff from 0 to 4 hours plus a 1- to 4-Cup feature when making less than 5 cups Includes: Charcoal water filter and permanent gold tone filter that ensures only the freshest coffee flavor flows through. Measuring scoop. Instruction book Product Built to North American Electrical Standards. Charcoal water filter (removes impurities) and dimension(LxWxH) is 7.75 inches x 9.00 inches x 14.00 inches
---
This product was recommended by Ashleigh Whitfield from Luxebible
Not only does it look super stylish in a modern kitchen with its sleek design, it's sustainable in every way, and has pioneered the perfect serve! Featuring the first ever Electric Pour Over System (EPOS), the integrated grinder means you get the luxury experience at the touch of a button, while the pre-brew function allows for the 'blooming' process to take place, meaning the coffee swells slightly when it's moistened just a little, allowing those wonderful aromas to be released before the rest of the water goes in.
---
This product was recommended by Ashleigh Whitfield from Luxebible
A portable but ultra stylish coffee maker which has been designed for the perfect pour every time. Just place a filter in the filter holder, fill with a scoop of coffee and pour a small amount of water on top to allow for the blooming process. (Water should be 92-96 degrees celsius for optimum blooming!) Leave for a moment and then switch the drip stop outlet on before pouring the rest of the water into the filter. The result is a gorgeous cafe style coffee from the comfort of your own home!
---
This product was recommended by Mathew Woodburn-Simmonds from Home Coffee Expert
The Saeco Xelsis is any coffee lovers dream machine. One button control to make your favorite style of coffee in the morning. Incredibly customizable to make sure your brew is just right and 6 separate profiles, so everyone can have their personalized drinks saved and ready to go at the touch of a button. The water filtration system means it rarely needs cleaned too! It's expensive but it's an amazing piece of kit that will revolutionize your morning cup.
---
This product was recommended by Arun Grewal from CoffeeBrewingPro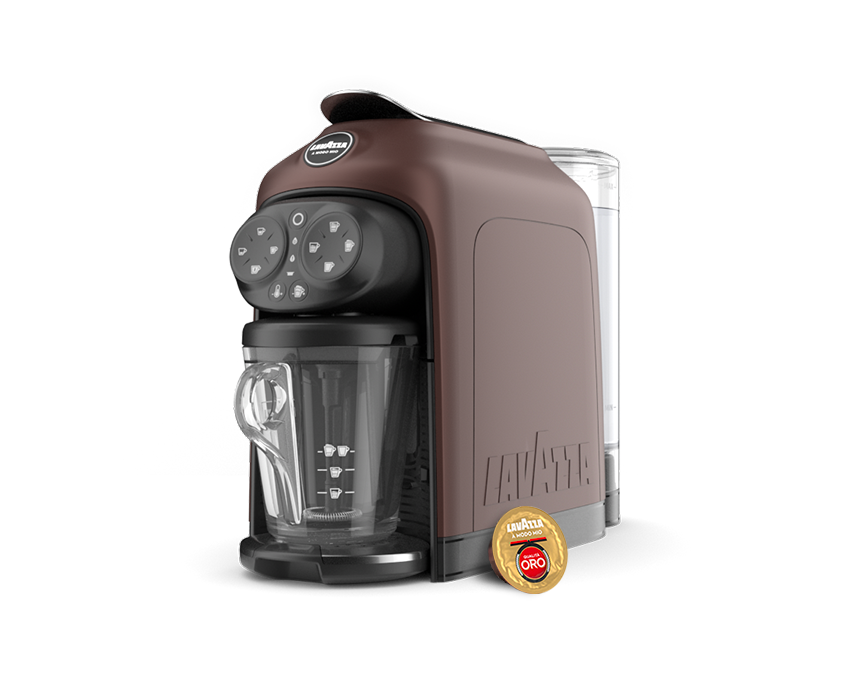 The Lavazza Desea is a premium coffee maker that leaves you with a superior cup of coffee. Its user-friendly touch interface with acoustic feedback allows you to prepare 9 different types of recipes with ease (4 coffee and 5 milk recipes). It is an extremely quiet coffee machine that won't exceed 43 dB. This powerful machine measures 145mm wide, 380mm deep, and 280mm high, with a weight of 4.5kg. It comes with its own Lavazza glass mug to give you a cohesive look. Unlike other Lavazza machines, this one comes with a milk frother that you can control depending on your beverage. It has a pump pressure of 15 bar and a water tank capacity of 1.1 L. It has alerts for both the empty water tank and the used capsule collection drawer alert. The capsule drawer can hold up to 10 used capsules.
---
This product was recommended by Peter Erlandsson from All Guitar Stuff
Best coffee machine I've ever bought is this Moccamaster. Swear to God, if it ever breaks down I'll buy another one without hesitation. Why? It's really fast, and my coffee never tasted so good. Also, it looks pretty awesome.
---
This product was recommended by Tonya Lawson from Simply Caffeinated
The Ninja Hot and Cold Brew is one of the most versatile machines on the market. It has the functionality of a dual coffee maker, meaning you can brew a single cup all the way up to a full carafe, and customize the strength of each brewing cycle. It also features Auto-IQ one-touch intelligence which allows you to brew a variety of coffee drinks that come out perfectly every time, with very little effort. Finally, it features a fold-away milk frother so you can brew great-tasting lattes and cappuccinos at home, without sacrificing extra counter space.
---
This product was recommended by Arpit Gupta from Sprout And Press
De'Longhi EC680M is an easy to use espresso machine. The tall 6-inch machine has a very classic silver look with a chrome plastic surface. Unlike multiple coffee machines available on the market, there are very few buttons on the EC680M. They are backlit and have appropriate symbols that make it easy for even beginners to use them. The steaming wand attached to the left side of the machine allows the user to enjoy and customise milk-based drinks. The skinny machine model enables users to enjoy really large beverages as the wand can accommodate tall coffee mugs. The advanced cappuccino system helps maintain the optimal temperature in such a way that users can brew multiple cups of coffee consecutively. The water tank is easily detachable, the clear plastic tanks allow users to estimate the water level without ruining the coffee brew. De'Longhi EC680M allows coffee aficionados to enjoy professional coffee at home without much effort.
---
This product was recommended by Peter Head from Japanoscope
The Yama Bamboo Frame Coffee Maker is coffee as a work of art. Japan has a way of taking western creations and making them better, and this is a case in point. "Yama" means "mountain" in Japanese and this elaborate cold-brew coffee contraption is tall enough to warrant the name. It's network of filters and chambers makes it look like something that would just as in place in a laboratory as in a kitchen. So I guess you could say it is also coffee as a work of science.
---
This product was recommended by Leo Young from Optimized Family
This a great value-for-money machine. It makes really good drip coffee, has a variety of brew functions and serving sizes, and is designed well. It has an amazing frother whisk and you can even make iced coffees.
---
This product was recommended by Leo Young from Optimized Family
This is the perfect coffee maker for beginners. You can make a pot of drip coffee and practice your barista skills at the same time. The advanced cappuccino system mixes the steam and milk together perfectly to make rich, creamy froth just the way you like it. The carbon filter ensures constant purified, fresh water for better-tasting coffee.
---
This product was recommended by Leo Young from Optimized Family
This is definitely one of the pricier options but well worth it. Besides the usual, it makes macchiatos and ristrettos, and froths and pours the milk. You can adjust the coffee temperature, drink size and set individual profiles so everyone can get their perfect choice at the touch of a button. I went a bit crazy and coughed up a small fortune to buy one of these for my boys and I…..and am loving it.
---
This product was recommended by Miranda Yan from VinPit
Excellent tasty coffee can take time. And in a busy world like this, people don't have a lot of time to make delicious coffee. So here comes the best coffee machine to buy. This can save time and can give as much tasty coffee as one needs. Breville Bambino Plus is currently holding the best espresso-making machine position. Reasons to Buy: 1. This comes with a quick heat up time. This makes this ideal for time-saving. 2. The functionality is straightforward, yet it offers a lot of customization. 3. This is not a giant machine. Its compact size makes this ideal for outdoor use. After each use, this needs a good wash. This brand is a well-known coffee maker. Breville is also available in the UK under the name Saga.
---
This product was recommended by Justin Rule from Sparrow Websites
This is a simple to use and simple to clean coffee machine that makes, well, simply, the best cup of coffee ever. There are 3 different cup sizes, 3 different types of milk foam, and if you get jumpy and need your first fix of the day, it makes a cup in 25 seconds flat.
---
This product was recommended by Justin Rule from Sparrow Websites
This is what we bought for our visitor's lounge although I can't seem to get my staff to stop sneaking in to use it. It is easy to use and does, or should I say makes, it all. Lattes, cappuccinos, espressos, flat whites, and yummy hot chocolate. There are plenty of accessories to help you make the perfect cup of whatever you feel like and although you will need to keep the outside clean and sparkling, an automatic cleaning programme will keep the inside clean so you can have your coffee and keep working as hard as you make your coffee machine work.
---
This product was recommended by Justin Rule from Sparrow Websites
This is what gets me up in the morning. Whether you want ground coffee or you are using pods this small yet might machine will give you a great cup of coffee in just 30 seconds. Take your pick….lattes, hot milk, flat whites, espresso, lungo, cappuccino and tea…..you can make them all.
---
This article showcases our top picks for the