This article showcases our top picks for the
Books on Recruitment Strategy
. We reached out to industry leaders and experts who have contributed the suggestions within this article (they have been credited for their contributions below). We are keen to hear your feedback on all of our content and our comment section is a moderated space to express your thoughts and feelings related (or not) to this article 
This list is in no particular order.
This product was recommended by Michael Taylor from Shifting Shares
At first glance this is a baseball book, however, I have not found a better book on developing a recruiting strategy. This book deals a baseball team that doesn't have a lot of money to sign star players, so the front office must look to undervalued assets. I really love the concept finding talent that has been overlooked for a variety of reasons. Michael Lewis does a great job of expressing how a baseball teams adjusts its recruiting strategy to compete with larger market teams. This is so applicable in business today, especially in the financial world. In finance, doing the same thing as everyone else is a great way to achieve average results. Being able to find talent that has been overlooked or missed provides a wonderful opportunity to create value in your employees. Highly recommend this read!
---
This product was recommended by Jorge Vivar from Mode
Culture-Driven Recruiting: There is No "Talent War" if you Eliminate the Competition by Lee-Anne Edwards has been my go-to recommendation for books on recruitment strategy. I adore the way she eloquently outlines the do's and dont's of the recruiting world while engaging the reader with her own personal experiences. Her arsenal of tips and techniques on how to be successful in the recruitment world has been so beneficial to my business. I recommend it to all of my colleagues who are hoping to develop their own hiring processes.
---
This product was recommended by Amit Raj from The Links Guy
Liz Ryan, CEO of Human Workplace and former Fortune 500 HR Senior VP, wrote Righteous Recruiting. Her essays look at how talent acquisition professionals may reimagine their processes, giving forth realistic and achievable goals for where their work can take them. Ryan focuses on people, covering subjects that are important to both recruiters and prospects. She offers a variety of suggestions, including simple modifications that might improve communication and the recruitment process, allowing firms to gain a long-term competitive advantage. Anyone who approaches recruiting and hiring with a people-first mindset should read this book.
---
This product was recommended by Chris Lewandowski from Princess Dental Staffing
In her book, Rothman wrote that the key to hiring geeks that fit is to assess the difference among candidates and their ability to adapt. The author also discusses ways to properly screen, evaluate, and hire the right people who fit the company culture, saving employers their time, money, and aggravation.
---
This product was recommended by Chris Lewandowski from Princess Dental Staffing
In this book, Colvin argues that a combination of purposeful practice, mentorship, and continual learning, not talent, sets world-class performers apart from the rest. When an individual is focused and goal-oriented, receives proper feedback and support, and continuously strives to learn, they reach their full potential and maintain a high level of performance.
---
This product was recommended by Chris Lewandowski from Princess Dental Staffing
This book offers organizations strategies to attract and retain top talent, which is scarce. According to the authors, a pool of talented staff will drive a business forward and give a competitive advantage, but it comes with a cost. The discussions are backed by case studies from various organizations that successfully won the war for talent.
---
This product was recommended by Alice Li from First Day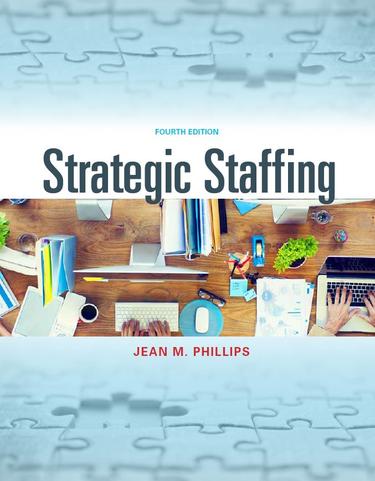 All present and future managers will be prepared to take a proactive and modernized approach to the assessment, recruitment, selection, and retention of talent by reading Strategic Staffing. This book shows how businesses may build a staffing strategy that supports business strategy, uses staffing technology, and assesses and improves hiring processes. It is based on research and filled with real-world examples.
---
This product was recommended by Laura Jimenez from Ishine365
This is one of the best books on job interviews out there. Robin has written an excellent book on interviews that can be read in about a day. It might take up to a week to come up with solid responses based on example responses provided, but in general, this book is concise. The author believes all responses must be given within 60 seconds using one of the five marketable skills you've predetermined. The questions and tips in this book are great for anyone trying to land that next step in life!!
---
This product was recommended by Anup Kayastha from auto loan calculator
Books published either digital or tangible, gave us the knowledge and information we have today. As a founder, what I like about this book is that explains how a small change can impact the employees' and the candidates' experiences with your recruitment process. It teaches me to explore how we, as recruiters may alter the way they do things, giving up practical and attainable visions for where their work can go. These innovations either big or small changes could make a difference directly affecting the employees, newly hired, or even the candidates.
---
This product was recommended by Chris Delaney from N/A
The book discusses the job interview prediction grid, a model for understanding how each job applicant is viewed based on their perceived level of knowledge/experience and confidence. Each applicant conforms to one of sixteen interview identities. The interview identity acts as a filter that an employer uses before making a hiring decision. The interview identity book will help readers to be seen as more skilled, more knowledgeable and more hireable.
---
This product was recommended by Vasiliy Kiselev from Top 3D Shop Inc.
The book is Armstrong's handbook of strategic human resource management for HR managers and business owners. Michael Armstrong offers proven techniques and tools aimed at practical application. The book covers the concept, practice, effectiveness, and other aspects of SHRM. It is a particular approach to developing and implementing specific recruitment strategies that contribute to the achievement of key business goals, working in conjunction with business strategies.
---
This product was recommended by Alex Smith from Luckybobbleheads
This book is intended for talent acquisition professionals who are in charge of hiring processes in their organizations. This book is very tactical. If you're looking for a no-nonsense, practical way to boost your recruitment strategy while building a successful, efficient, and legal selection and hiring process, this book can help.
---
This product was recommended by Ian Kelly from NuLeaf Naturals
The author of this book has a background in agency recruiting, but his methods can be loosely applied to any industry. There is a lot of focus on the importance of investing in your recruitment process. Spending money to find the right people is far more financially viable than consistently hiring people that do not remain with your company long-term. People don't often associate the quote, You get what you pay for, with the hiring process, but this book dives into how businesses need to invest in their hiring and onboarding procedures to get the best candidates.
---
This product was recommended by Michael Rose from Union Law Firm
Why? It isn't enough to just make sure that you're able to target and find the right people for your business, you need to have an effective strategy for making sure that they become an intrinsic part of the long-term objectives and goals of your company. And that's what Mark Miller's book teaches you in a straightforward and easy-to-follow, step-by-step narrative, how to find the best people and keep them.
---
This product was recommended by Ricardo Luis Von Groll from Talentify
Engagement is key. Based on research, the author shows how to identify the types of energy within organizations and how to develop the potential of employees in search of innovation and growth.
---
This product was recommended by Amira Irfan from A Self Guru
The Future Workplace Experience represents a framework for actionable purposes. Today's toughest business disruptions should be dealt with clarity and straightforward behavior. The book provides guidance for recruiting top employees and building an engaged culture that can drive one's company to overnight success. The 10 rules for rethinking and reinventing organization are included in the book with much detail.
---
This product was recommended by Jason Cordes from CocoLoan
This book guides developing skilled readers to expand more framework-focused, goal-based leadership in-memory operations. It covers many strategies through conferring and small groups.
---
This product was recommended by Jason Cordes from CocoLoan
This book provides a good collection of assessment-based exam intervention methods that can be used with a focus on Corridor Teachers. ELLs and Teachers are trying to help combat readers in their classrooms and schools. It also provides teachers with open model plans and little routines that elementary educators can quickly enjoy and modify.
---
This product was recommended by Jason Cordes from CocoLoan
This second resource has been designed to help support college and career readiness standards and provide a comprehensive research base on the direction of instruction in the district, including key approaches to teaching and learning in the district. To help students read and understand content in good faith.
---
This product was recommended by Kevin from NANBF
This book by Andy Headworth really helped me change the way that I go about recruiting for my business, and I would recommend it to anyone who has a role in recruiting in any business. In the fitness field, social media is an integral part of the way that we do business, and a social media presence is basically a necessity of having a fitness business – so why shouldn't it play a big part in the way that we recruit too. Headworth helped me to restructure recruiting processes in our business to better suit our modern world, and our specific business needs (it is always beneficial if a trainer comes to us with a prebuilt audience and client base).
---
This product was recommended by James "Jimmy" Watts from Own The Grill
Why This Book? Because it'll take you from business zero to recruitment hero in less than two days and it'll transform the way you think about, and run your business. Any business is only as good as the employees helping to shape it, so if you want to be the best and beat the rest, this book will teach you how to recruit the staff you need to make that happen.
---
This product was recommended by Luke Lee from Palaleather
We think that talent is just a list of skills and abilities. This book defines talent differently and shows how it is so much more. It helps readers implement a design thinking approach using actionable tips and strategies. It gives hiring teams a human centric lens to identify and adopt them to the team. This book breaks down theory and offers actionable recommendations that can be implemented immediately, and gives teams a concrete roadmap for talent acquisition.
---
This product was recommended by Gergo Vari from Lensa
I really like Katrina Collier's take on recruitment. She offers a lot of great advice on how to find and attract the best candidates, as well as how to protect your business from the ever-growing threat of automation. This book is a must-read for any recruiter who wants to stay ahead of the curve.
---
This product was recommended by Mimi Paul from Starkflow
It's a pleasant and thought provoking read recruitment strategy book with the occasional profanity. It cuts through a lot of recruitment and HR cliché. At times it provokes people to stop and consider their own point of view. The author offers recruitment tips in an entertaining way. The strategy works and it's effective, totally recommended.
---