Best Shredder For Small Office
. We reached out to industry leaders and experts who have contributed the suggestions within this article (they have been credited for their contributions below). We are keen to hear your feedback on all of our content and our comment section is a moderated space to express your thoughts and feelings related (or not) to this article 
This list is in no particular order.
This product was recommended by Ouriel Lemmel from WinIt
I recommend the Fellowes Powershred 99Ci. This is a classic and solid shredder at a good price. This shredder is powerful and fast and can be used for 1-3 users. It shreds up to 18 sheets of paper per pass without paper jams, and besides documents, you can also shred CD's , DVD's, credit cards, and staples. It's perfect for small offices, and you can depend on the motor not breaking down after a few tough uses. A great investment in your small business.
---
This product was recommended by Stephen Light from Nolah Mattress
There's a reason this Aurora shredder is a bestseller, and that begins with it being professional-grade and high security. It slices through 12 sheets of paper at a time with micro-cuts 6 times smaller than the average cross-cut, meaning no one is ever going to have access to your sensitive information. It's a great size for smaller offices and is sleek looking. It has an excellent auto-reverse anti-jam feature that will make sure you're never prying paper out by hand. With super quiet operation and a 60-minute continuous runtime, this is a great shredder for any office space.
---
This product was recommended by Zac Houghton from Loftera Limited
The Bonsaii Paper Shredder for Home Use is designed to handle the everyday shredding needs of a small office. The combination of a permanent magnet motor, which uses less electricity and minimizes waste, as well as rotor blades made from 2-millimeter-wide micro cut blades makes it simple to shred personal documents, old credit cards, accounting files or tax returns by simply slipping paper into the 8.9-by-11-inch opening. With its ability to handle up to seven sheets at once, the 7-by-10.3-inch Bonsaii Paper Shredder for Home Use can reduce paper by up to 3/16 inch with each pass and up to 8 sheets at once with a web of cross-cuts. It's great for smaller offices that don't need a large shredder to destroy information worth protecting.
---
This product was recommended by Harriet Chan from CocoFinder
If you only need to shred tiny amounts of paper, this low-cost Amazon shredder will do the job just like the more expensive ones. This device will cross-cut paper, credit cards, and CDs into small strips for £50, but only for five minutes before cooling down for 30 minutes. Also, it has a manual reverse mode to clear paper jams. The Amazon model holds between 10 and 12 sheets of paper and features an 18.2-litre pullout bin.
---
This product was recommended by Harriet Chan from CocoFinder
Unlike most shredders, this one from Bonsaii has a small window that allows you to see how full it is without removing the top lid. With a 4-minute continuous run time and a 40-minute cool-down period, you won't be able to fill it as quickly as other models. The Bonsaii model is easy to operate with light-indication, overhead, and overload protection.
---
This product was recommended by Jonathan Tian from Mobitrix
This shredder is sleeker and more compact, making it ideal if you don't have a lot of space in your office. Despite its small size, the LED control panel is simple and easy to use. The shredder has several safety sensors and will shut down after 5 minutes of inactivity or when the waste paper bin is full. You'll also be able to use the intelligent auto cleaning feature. Finally, the shredder includes an innovative self-diagnosis system that will help you quickly determine any cause of an error in the machine.
---
This product was recommended by Jonathan Tian from Mobitrix
This shredder is quite versatile, making it an excellent choice for a small office that will be dealing with a large amount of documentation. It has everything a modern small office could want, including a simple, easy-to-use interface. It also has a high-quality built-in anti-jam sensor that will turn off the shredder if a jam is detected. The shredder can safely shred paper clips, staples, CDs, and other items. You can also select from several different shredding modes, including one with a low power consumption setting.
---
This product was recommended by Brian Lee from Drill and Driver
The shredder that will make your shredding very easy and hassle free. We've been using this in our office for long time now and proves its durability. It can even cut CDs and DVDs, old credit cards and documents into tiny bits. Whenever it encounters paper jams, it automatically starts and stop that is really a good feature. The bin where the shredded bits are placed can be easily removed it cleaned with its pull-out design. It can also hold a huge amount that makes it less likely to be emptied every time you use it.
---
This product was recommended by Gabriel Dungan from ViscoSoft
This small shredder has fantastic shredding capacity and also has anti-jam technology, meaning you don't have to worry about it breaking down. It's also extremely quiet, which lets me focus during my workday, even when it's running for up to half an hour!
---
This product was recommended by Michael Dean from Pool Research
For me, it's all about the sheet capacity. I don't want to have to sacrifice decent sheet capacity for a smaller size, which is why I love this shredder. It's quiet, doesn't jam, and allows you to do 15 pages at a time, which for a small shredder is excellent.
---
This product was recommended by Ted Mosby from CamperAdvise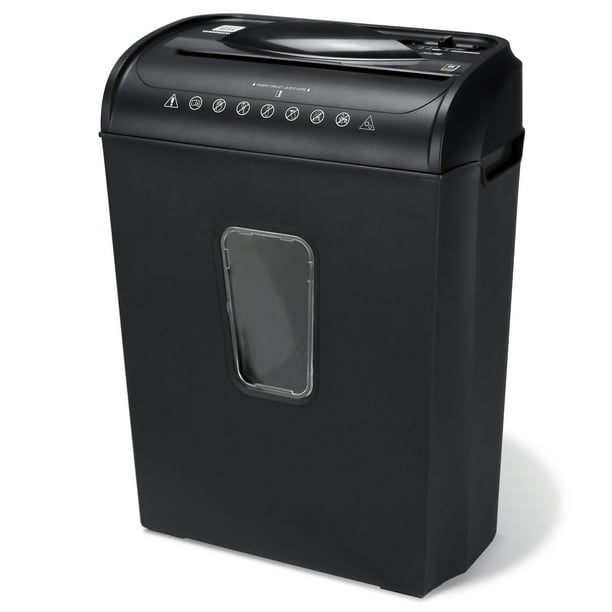 Pen + Gear 6-sheet Crosscut Paper/Credit Card Shredder, $34.96 Walmart Cross-shredding your documents, identity documents, and expired credit cards is a good way to reduce your chances of becoming a victim of fraud or identity theft. The 6-sheet shredder has tough steel cutters that can sever paper, plastic, metal staples, and small paper clips. The compact unit features Pen Gear's proprietary Shred Safe easy feeding entry system, as well as a safety angled slot to help prevent injury. In the event of a paper jam, the jam remover's manual forward feature can be used to help clear the cutters. An LED indicator indicates whether or not the device is overheating. The integrated handle on the crosscut paper shredder allows for easy emptying of the 3.7-gal wastebasket.
---
This product was recommended by Shiv Gupta from Incrementors
When you've got a large stack that's starting to pile up, a heavy-duty paper shredder is your best chance for getting the job done fast and efficiently. The 18-sheet capacity of this heavy-duty shredder from Bonsaii allows it to handle large volumes of paper at once. Even though it has a 60-minute run time, it is far quieter than other similar models.
---
This product was recommended by Shiv Gupta from Incrementors
The Fellowes Powershred 79Ci Paper shredder has a 23-litre capacity and features a cross-cut mechanism that can slice and dice anything you feed into it in two directions for optimal security. One of the finest features of this model is that it is completely jam-proof, so you will never have to battle with it to get the stuck paper out. It also has SafeSense Technology, which shuts the device instantly if anyone's fingers go dangerously close to its internal components, making it a good choice for home offices. It also features a maximum sheet input of 14 sheets, which is double the amount seen on most cheap models.
---
This product was recommended by Ian Sells from RebateKey
This compact shredder is a personal favorite. A shredder's waste basket size is a primary limitation in shredders since once it's full, you can no longer shred and risk jams. This one doesn't have a waste basket and works well with a range of trashcans. Moreover, you no longer need to transfer paper waste from the shredder to the trash since it goes directly there.
---
This article showcases our top picks for the