This article showcases our top picks for the 'Best Executive Chair'. We reached out to industry leaders and experts who have contributed the suggestions within this article (they have been credited for their contributions below).
We are keen to hear your feedback on all of our content and our comment section is a moderated space to express your thoughts and feelings related (or not) to this article This list is in no particular order.
This product was recommended by Esther Gokhale from Gokhale Method Institute
Esther Gokhale from Gokhale Method Institute: Who knew an executive chair could help prevent back and neck pain?
I designed the affordable and durable Gokhale Pain-Free Chair to support healthy posture. Its waterfall front promotes comfortable and sustainable upright sitting posture. Stretchsit® traction nubs built into the back rest facilitate gentle spine lengthening to decompress nerves and discs. The lack of arm rests allows the user to come in close to their work surface, preventing rounding in the upper back and unnecessary neck and shoulder tension. Gas lift construction smoothly adjusts height. Small, regular, and tall dimensions available; optional foot ring available as an add-on.
---
This product was recommended by Pattie Kelly from Inspired Home Interiors
You know you're getting a high quality, timeless piece with the Eames Executive Chair from Herman Miller. Emblematic of traditional fine furniture with modern appeal, this chair has luxuriously thick foam cushions and armrests, with finely detailed leather or fabric upholstery options available. The seat is generously sized with adjustable height, tilt, and swivel. It features a lightweight aluminum frame and 5 star base, available with casters or glides for easy movement. For a classic look, I recommend selecting a full-grain leather in black, which will develop a rich patina over time. For a punch of color, consider the Lumine (yellow) highly durable fabric option. Whichever the finish, you'll be sitting in comfort and style in the boardroom or at your desk.
---
This product was recommended by Heloise Blaure from HomeKitchenland
The Sayl chair by Herman Miller is one of the best ergonomic office chairs which is very much affordable and comfortable. It is made of recycled material and comes in multiple attractive colours. This chair has been armed with some of the best engineering skills. It has two different innovations mainly the Y-tower and the ArcSpan.
---
This product was recommended by John Barnes from Lamps Plus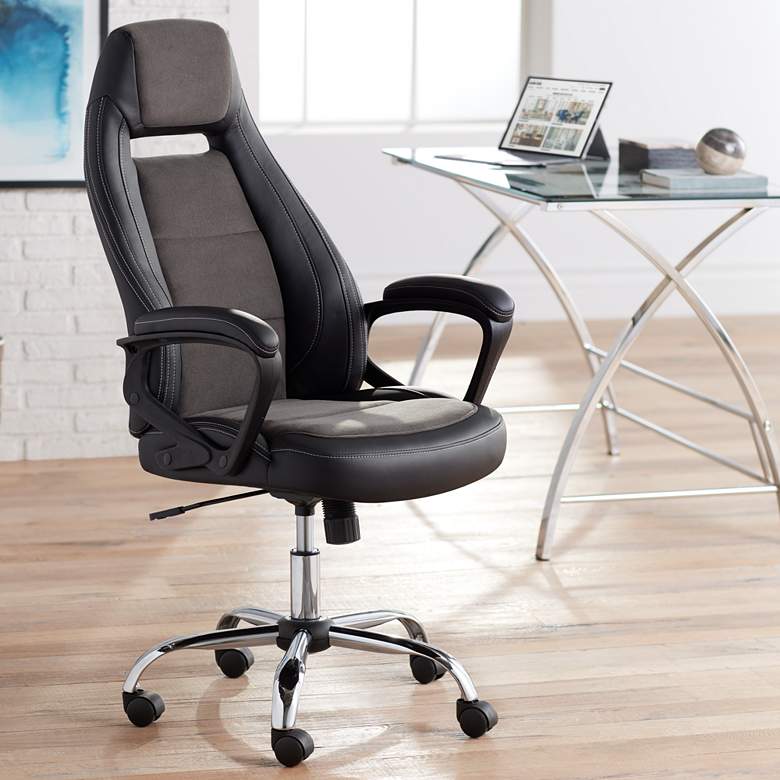 For the price, you can't beat this adjustable office chair design. The seat swivel adjusts, making it easy to get in and our of, plus it has height and tilt adjustment levers so you can customize it to your build. The high back and arms are great for providing support for long work sessions.
---
This product was recommended by Stefan Smulders from Expandi
This executive office chair by OFM has an ergonomic design and a bonded leather surface that gives it a luxurious finish while providing you with unbelievably comfortable seating. OFM products are made with only high-quality materials, making it a very durable and long-lasting office chair. The fixed arms are also ergonomically designed, and for some extra money, you can get them padded for extra comfort. In short, you can't go wrong with this office chair as it is one of the best out there and your back will thank you.
---
This product was recommended by Sonya Schwartz from Her Norm
This chair is made out of bonded leather, a higher quality of leather, and weighs 350Lbs. It has an adjustable armrest, lumbar support, and headrest. Its base material is made out of Nylon and comes in colors black or brown. It has a tilt tension knob that makes rocking the chair back and forth a lot easier. It also rotates in 360 degrees allowing the person seating to multitask comfortably,
---
This product was recommended by Noman Asghar from Fan Jackets
A great executive chair that is upholstered with black leather and designed ergonomically to support the lumbar for long time work. A beautiful, comfortable, and sturdy chair with padded armrest and rolling wheels.
---
This product was recommended by Shawn Lockery from InVivo Biosystems
Steelcase Amia Task Chair has adjustable back tension, live lumbar support, and 4-way adjustable arms. The chair's back includes a system of flexor for continuous lower back support as you can move throughout during sitting. I spend tons of time in an office chair, and this chair is mind-bending excellent compared to most others I've experienced.
---