This article showcases our top picks for the
Best Quiet Air Fryer
. We reached out to industry leaders and experts who have contributed the suggestions within this article (they have been credited for their contributions below). We are keen to hear your feedback on all of our content and our comment section is a moderated space to express your thoughts and feelings related (or not) to this article 
This list is in no particular order.
This product was recommended by Robert Johnson from Coast Appliances
This quiet operation stainless-steel air fryer can fry up to 2.5 pounds of food. It has a smart, compact design with a 0.3 cubic feet interior and adjustable time and temperature settings up to 60 minutes cooking time at a maximum of 450°. Because of Cuisinart Air Fryer's superior quiet operation, expect nothing less but optimal performance at minimal noise. You can bake 8 inches of pizza, toast four slices of bread, or air fry 2.5 pounds of chicken wings.
---
This product was recommended by Ava Collins from Adelaide Examiner
Choosing from 13 convenient cooking functions with just a single icon, also opening to quick adjustment on cooking time. The GANIZA air fryers one-touch screen features 11 preset functions including steak, chicken, seafood, shrimp, bacon, frozen foods, french fries, vegetables, root vegetables, proof bread, dehydrate with precise temperature & timer settings, PLUS extra cooking assist functions including preheat and keep warm.
---
This product was recommended by Eduarda dePaula from Find By Plate
Chefman's TurboFry Touch Air Fryer is one of the quietest found on the market. It has aced many noise tests, a telling proof of its capability to operate without making a sound. This air fryer has also shown that it can produce perfectly crisp results with no oil required. And these results can be achieved for a variety of foods. You can even air-fry frozen foods using its integrated timer. The non-stick, 3.6-quart basket is also very easy to clean. You will only need to use soft cloth and sponges.
---
This product was recommended by Mo Mulla from Parental Questions
This is the best quiet air fryer because it has a number of features that make it ideal for busy home cooks. The first thing you'll love about this air fryer is its size. The 5.7 quart capacity means you can cook meals for the whole family, and its small footprint means it won't take up too much counter space. This air fryer also offers a variety of cooking functions, including air frying, convection baking, roasting and dehydrating. And because it's multifunctional, you can use it to prepare everything from snacks to full meals. Another great feature of the Instant Vortex 5.7QT Air Fryer Oven Combo is its quiet operation. Unlike many other air fryers on the market, this one doesn't produce a lot of noise when in use, so you can cook without disturbing others in your home. Plus, its cool-touch housing ensures that the unit remains safe to touch no matter how hot it gets inside.
---
This product was recommended by Alex Williams from FInd This Best
The Philips Premium Airfryer is designed to drain fat from food and promote healthier eating habits. It has built-in cord storage and is available in both modes, analog and digital. This makes it easier for individuals who aren't digitally aware. You can air-fry anything from a rotisserie chicken to french fries in this appliance. It has a keep warm" function that keeps your food hot for upto 30 minutes. Once you're done, you can remove the parts and clean them in a dishwasher.
---
This product was recommended by Fred Hoffman from The True Wilderness
The Amazon Basics 3.2 Quart Compact Multi-Functional Digital Air Fryer is perfect for smaller meals and households. It has a digital control panel with 8 preset functions so you can air fry, roast, bake, reheat and more! Its design also includes a nonstick interior basket that is easy to clean, as well as an adjustable temperature control and timer. The automatic shut off feature ensures that your food doesn't overcook, while the removable parts are dishwasher safe for easy cleaning. This air fryer is a great choice for those who want an efficient and compact air frying solution.
---
This product was recommended by Peter Varadi from MarketGap.Pro
The Ultrean air fryer is a one-stop solution for all your cooking needs. It requires absolutely no oil to make meals delicious. And comes with many options through which you can quickly grill and roast items. The best part is that it doesn't make any noise so you can enjoy stress-free cooking without your kitchen sounding like a circus. It's easy to set up and doesn't need much maintenance making this an ideal pick!
---
This product was recommended by Amy Wampler from Spartan Mechanical
Dreo air fryer is one of the best as it allows you to make anything you want, from crispy chicken to tasty cakes. It has a compact design, which means you can save a lot of space and can fit into small cooking areas. Additionally, it has 9 functions that include one-touch preheat, unfreeze, cook, bake, crisp, dehydrate and reheat. Also, its sound level is one of the main features as it is not as loud as many other air fryers.
---
This product was recommended by David Clark from Basement Guides
Dash Digital Tasti Crisp quiet air fryer is small but popular, with many positive reviews. It is lightweight and has unique cleaning and control features. You can easily select the temperature and time range. You can enjoy crisp, 85% fat-free food every time. Apart from the healthy meals it offers, it comes with noise free technology. This six-pound model is one of the best compact air fryers. With its 360-degree hot air convection system and basket, the Dash Digital cooks food 4 times faster than a conventional oven with no noise.
---
This product was recommended by David Reid from VEM Tooling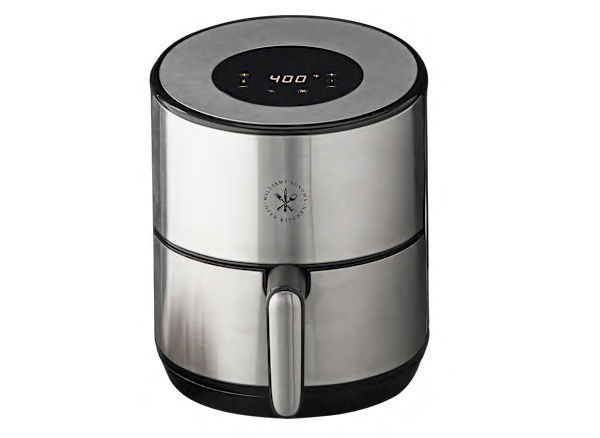 The Williams Sonoma Open Kitchen Digital Air Fryer controls are average, but the appliance passes the quiet test with flying colors. Its body is sleek brushed stainless steel, and it comes with a basket that can hold up to 3.6 quarts of your food. It's also not hard to clean up afterward. This version features a digital readout and may be pre-set to optimal conditions.
---
This product was recommended by Irene Graham from Spylix
The GoWise USA GW22731 has been awarded a coveted CR Best Buy designation. This model is slightly noisier than the others we recommend here, yet it still achieved an Excellent rating in our noise tests. It may be the noisiest air fryer on this list, but its 4.9-quart capacity makes it ideal if you cook for a large group in peace. While the GoWise can be painful to clean, its controls are incredibly intuitive
---
This product was recommended by Irene Graham from Spylix
Because of its low noise output, this model has received numerous praises. Even when switched on, our product tester reported she hardly noticed it. To create fries, steak, bacon, fish, shrimp, veggies, poultry, potatoes, bread, cake, or thaw frozen treats, the user can manually set the time and temperature or choose from 11 cooking presets, as is the case with most air fryers. The nonstick 6-quart capacity frying basket may be cleaned in the dishwasher.
---
This product was recommended by Eleanor Fletcher from The Best Brisbane
It is a full-sized premium toaster oven with an air fryer. This air fryer toaster oven has seven different settings. It features air fry, convection bake, convection broil, warm, toast, and other functions. Furthermore, this air fryer toaster oven is not only multifunctional but also long-lasting. This kitchen appliance is more durable than others due to its well-made stainless steel body. This is the premium pick for quiet air fryers on the market. Its whisper-quiet operation will undoubtedly impress you.
---
This product was recommended by Rashid Khan from Dubai's Best
This quiet and convenient appliance has a simple LED touch display control that allows you to easily set the timer and temperature. The Emerald Electric Air Fryer's extra-large capacity allows you to prepare meals for the entire family or just a simple small meal for yourself. You can also make crispy or juicy food without using oil by using rapid air circulation.
---
This product was recommended by Rashid Khan from Dubai's Best
The Ninja Foodi Deluxe pressure cooker is ideal for those who want to pressure cook and crisp their food. Tendercrisp technology is used in this appliance to quickly pressure cook ingredients while locking in juices, and then to give them a crispy, golden air-fryer finish. The 8-quart capacity is ideal for cooking large family meals, and the 5-quart cook & crisp basket is ideal for air frying chicken or other meats. The deluxe reversible rack can steam and broil food, as well as cook tender chicken breasts. Both the pot and the basket have a nonstick, PFOA-free ceramic coating that is easy to clean by hand.
---
This product was recommended by Mia Garcia from iToolab
COSORI air fryer, 5 QT 9-in-1 air fryer is the perfect small appliance that creates tasty snacks that are evenly cooked and perfectly crispy. This air fryer comes complete with an easy-to-read tempered glass display, 30 exclusive recipes, and a 5-quart stainless steel cooking bowl. If you have ever tried to cook in a traditional deep fryer or electric pressure cooker for this type of food then you already know how much more time efficient it is.
---